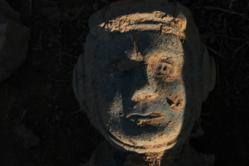 (PRWEB) May 04, 2013
Clutching the hand of Prisoner sticking out of the earth deep inside a excavation pit, Kandinsky winner Grisha Bruskin explained that much of his population had died in this way, in the mass graves of the gulag.
The burial site for Bruskin's 33 bronze Soviet figures and icons was chosen in Italy, because the artist wanted to unite the remains of all three Roman empires. The Byzantine empire was referred to as the second Roman empire, and the Soviet empire was referred to as the third Roman empire. Bruskin felt that the Roman soil was appropriate for his life-size mass grave followed by a major excavation.
In the most ambitious art project of his career, Bruskin wanted nature to cultivate his fragments as ruins before they would be excavated. He waited on the soil for a period of three years. Now the excavation, Archeologist's Collection, is installed at the historic Constructivist building, the Udarnik. Commissioned by Stalin, it is a site where purges were once held to cleanse the communist party; later Soviet classic films premiered archetypal heroes important to the Soviet civilization. Bruskin's installation with life-size forms protruding from earth on the ground floor awakens the Udarnik to a new age beyond the Soviet time.
Archeologist's Collection will be supplemented with unseen footage from a documentary on the life and work of Grisha Bruskin presented by Archival Magazine. The artist is ready for the public in Moscow, where he was born in 1945, to share in his arts memoria. This formal remembrance offers viewers a chance to participate in the psychological and metaphysical restoration brought on by deep reflection in an archeological environment.
Organized by the Artchronika Cultural Foundation, Archeologist's Collection, opens May 17th. The museum will be open Tuesdays through Sundays from 11 am to 8 pm, and closed on Mondays. The regular ticket price is 200 rubbles, and the concessionary ticket price is 100 rubbles. The Udarnik is located on Serafimovich st., 2.
For more information on this exhibition, please email info@archivalmagazine.com. Grisha Bruskin is represented internationally by Meyerovich Gallery in San Francisco and Marlborough Gallery in New York.
Archival Magazine is a high definition video streaming publication that produces entertainment content for film, television, the web, and mobile devices. Using powerful cinematic approaches to storytelling, Archival Magazine presents visual and performing arts, literature, architecture, archeology, history, political science, economics, anthropology, travel, and health from past ages to current and coming ages. The stories featured by Archival Magazine demonstrate the gravity of art and age.