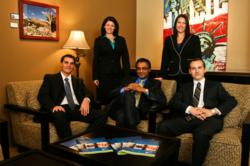 At Vora Wealth Management, we believe our business model is aligned with pursuing solutions that are in your best interest and presents a superior opportunity for you.
Phoenix, AZ (PRWEB) May 08, 2013
Vora Wealth Management, PLLC was awarded the "Best of the Best" designation for excellence by Follow Media Consulting, Inc. in the category of Financial Advisor Phoenix. This award signifies the continued commitment and dedication of the areas best in financial planning and management services.
Because many people regard financial planning as complex and confusing, they may often miss out on many potentially rewarding financial opportunities. In some cases unnecessary risks may be taken in portfolio holdings, as well as a failure to adequately protect their assets against volatile market conditions. That's where Vora Financial Group, PLLC can help.
Vora Wealth Management, PLLC goal is to take the mystery out of investing. They have personalized strategies to help manage risk, prepare their clients for retirement, and wealth preservation techniques to carry their clients through retirement. By helping implement the strategies needed to pursue their client's financial objectives, Vora Wealth Management, PLLC hopes to establish long and trusted relationships with their clients.
Vora Wealth Management, PLLC firm specalizes in working with individuals that are either nearing retirement or already retired. Their focus is to help their client preserve and protect their nest egg. Vora Wealth Management, PLLC has successfully helped their clients minimize or eliminate the risk in their investment portfolio without sacrificing their returns. Their other focus is to help the clients stop paying unnecessary taxes, thus lowering their taxes and increasing income.
Though successful execution is complex, Vora Wealth Management, PLLC's philosophy is simple and straightforward:
-Maximize returns while controlling risk.
-Protect principal during volatile financial markets.
-Maintain a long-term outlook.
-Create wealth by managing risk and return through market cycles.
To know more about Vora Wealth Management, PLLC's financial management services, call them at (480) 364 - 4540 or visit their website at http://www.vorafinancial.com/ where you can also request a quote.
About Follow Media Consulting, Inc.
Named one of the best SEO companies by Jonas Marketing, Follow Media Consulting, Inc. is a rapidly growing worldwide firm of SEO, Social Media, and Mobile Marketing Professionals. Follow Media Consulting, Inc. headquarters is located in Richmond, VA. However, our professional team is networked across the world, with regional offices across the United States, in the United Kingdom, Canada, Australia, France, South Africa, the Philippines, and India.