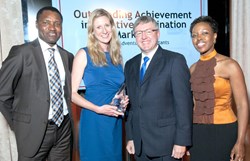 "More and more families with kids are choosing to safari in South Africa," says Kent Redding.
Denver, Colorado (PRWEB) May 07, 2013
Africa Adventure Consultants (AAC) was honored with an Ubuntu Award from South African Tourism in a recent ceremony held in New York City. Denver-based Africa safari company AAC received the award for "Outstanding Achievement in Creative Destination Marketing" for its creation of the "Monkey See, Monkey Do African Safari Contest," where families submitted videos of kids acting like their favorite South African animal for a chance to win a family safari.
"South Africa has long been one of the top destinations our clients choose to visit, and now, more and more families with kids are choosing to safari in South Africa. We really attempted to be innovative in creating the contest in a way that would connect in a fresh and visual way with families across the U.S.," says Kent Redding, president and co-founder of Africa Adventure Consultants, "so it's particularly meaningful to us to be honored by South African Tourism for creativity in destination marketing for that effort."
As an award-winner for South African destination marketing, Redding – who draws on his own and his staff's experiences living and working in Africa to craft AAC's custom safari itineraries – recommends these five different ways to see South Africa:
1. On foot on a nature walk at Grootbos Nature Reserve, (included in AAC's 10-day Cape Town, Madikwe and Garden Route family safari), home to the protected fynbos and the largest milkwood forests in the world. Go on a guided walk exploring an ancient sea cave, rock pools, pristine beaches and cliff paths.
2. By rail on the South Africa Romance Safari, experiencing the glamour of the golden age of rail travel through the heart of Africa – a 1,000-mile journey in two luxurious days.
3. By boat on a Western Cape great white shark cage dive at Dyer Island, home to 40,000 Cape fur seals and the channel known as "Shark Alley."
4. By bike on the Cape Town Cycle & Culinary Safari, seven days spent pedaling the coast, Garden Route and Winelands, with fine dining, wine tastings and chef-taught cooking classes.
5. By gondola on Table Mountain's spinning aerial cableway in Cape Town, famous for its spectacular views – part of a 13-day South African family safari from AAC featuring special family-friendly accommodations.
The South African Tourism (SAT) Ubuntu Award is named for an African philosophy that speaks to people's interconnectedness. AAC's Ubuntu Award was one of 12 presented by SAT to recognize its outstanding trade partners in business and leisure travel. "South Africa has proven itself as one of the most successful tourism destinations in the world today," said Marthinus Van Schalkwyk, South Africa's Minister of Tourism about the awards. "We are deeply indebted to the frontline ambassadors of the travel trade."
In addition to receiving the Ubuntu Award from South African Tourism, Africa Adventure Consultants was recently named to "National Geographic Traveler's" 2013 "50 Tours of a Lifetime" list in the magazine's May/June issue for "In Livingstone's Steps: The Final Journey," a 10-day safari to Tanzania and Zanzibar that's one of four created by AAC in honor of the famous explorer's 200th birthday.
Company Information: Africa Adventure Consultants is a leading safari company specializing in crafting custom itineraries to 13 countries in Africa, from classic photo safaris and adventure trekking to luxury honeymoons and family holidays. The staff at Africa Adventures Consultants has lived, worked, and traveled throughout Africa, giving them an insider's perspective on how to create the best safaris in the continent's top destinations. AAC offers personalized tour planning to Botswana, Egypt, Ethiopia, Kenya, Malawi, Mozambique, Namibia, Rwanda, South Africa, Tanzania, Uganda, Zimbabwe and Zambia. In addition to creating customized private journeys, AAC offers more than 20 group trips, including gorilla safaris in Uganda and Rwanda, Kilimanjaro climbs and migration safaris. For additional information, visit http://www.adventuresinafrica.com.
Media Contact: Darla Worden, WordenGroup Public Relations, darla(at)wordenpr(dot)com, 303.777.7667