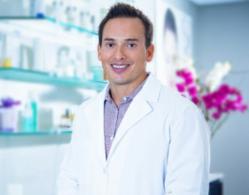 The goal is not to merely prolong the total years of an individual's life, but to ensure that those years are enjoyed in a productive and vital fashion.
Miami, FL (PRWEB) May 03, 2013
Dr. Julio Hernandez and his team are not the typical dental office. They not only see themselves as oral health specialists, but as whole- body wellness practitioners. Dr. Hernandez states: "As the gateway to the body, the mouth is a key indicator to overall health. Research has shown a clear link between oral health and system health. This is why we combine dentistry, skin care and integrative medicine to take a more holistic approach to patient's health."
Dr. Hernandez and his team know that 90% of systemic conditions are linked to symptoms in the mouth. The mouth is a crucial part of any diagnostic process for physicians and dentists when it comes to overall wellness. If symptoms such as bleeding gums, fungal infections, decay, inflammation or missing teeth present in the mouth, it could be a warning sign that a patient is at risk for things like heart disease, diabetes or osteoporosis.
Because of the responsibility to patient's health, Dr. Hernandez and his team have adopted practices that help them simultaneously manage a patient's risk for oral imbalance while cluing them in to possible systemic risk. The newest tool being used at the office is a caries (cavity) risk assessment program developed by CariFree that is shown to decrease incidents of tooth decay by up to 74%. The system is based on a medical model of risk assessment called CAMBRA or Caries Management by Risk Assessment.
The CariFree system requires the dental professional to assess each and every patient's risk factors for the dental caries disease and then develop a personalized treatment plan to systematically lower their risk. The CariFree diagnostic tools leverage biofilm testing (to determine the levels of cavity-causing bacteria in the patient's mouth) as well as a risk assessment questionnaire. Based on the assessment Dr. Hernandez can tell a patient what their statistical likelihood is of developing tooth decay over the next 12 months. Never before has such predictive information been available. Patients can then measurably lower their risk for decay by utilizing professional products and behavior modification.
When a patients risk for decay and other oral health issues are lowered, the risk of diseases like heart disease and diabetes are mitigated. In addition, keeping a close eye on changes in the mouth with these assessment tools makes early detection a priority. Dr. Hernandez and his team provide a patient centered approach to dentistry that will direct each patient to his or her most healthy self. He says: "At Biscayne Wellness Center, we move away from the disease-based approach to medicine and focus on health-centered medicine. The goal is not to merely prolong the total years of an individual's life, but to ensure that those years are enjoyed in a productive and vital fashion."
For more information on the CariFree system, go to http://www.carifree.com. To call now and make your appointment with Dr. Hernandez and his team call 305-572-1600.
About Dr. Hernandez:
Celebrated as the grand-architect behind some of South Florida's most brilliant smiles, Dr. Julio E. Hernandez, D.M.D., has over a decade of experience in cosmetic dentistry, orthodontics and prosthodontic services. In addition to regularly appearing in the press as a leading authority on cosmetic dentistry, Dr. Hernandez is a frequent guest on a variety of syndicated and international television programs.