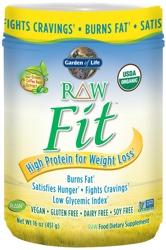 (PRWEB) May 05, 2013
Gail Bowman, owner of Health Food Emporium, an online health food store, said today, "Garden of Life has become the industry leader in green super food and vegan protein powders. Now, they have come out with a brand new idea: A vegan protein powder that helps you lose weight with safe, time-tested ingredients. Garden of Life's new product is called Raw Fit.
In addition, Health Food Emporium now has Raw Fit on sale through the month of May."
RAW Fit is a USDA Certified Organic, RAW, plant-based vegan high-protein powder. It is dairy free, GMO free and gluten free. It has a mild, slightly sweet flavor, contains RAW, organic and clinically studied ingredients to help burn fat, maintain healthy blood sugar, boost energy, and help reduce weight.
Raw Fit has 28g of RAW certified organic plant protein. These are complete proteins from 13 organic sprouts. In addition, Raw Fit Promotes contains live probiotics and enzymes to assist with digestion.
Raw Fit also contains Ashwagandha. In a recent article, Dr. Mercola stated that Ashwagandha, "Boosts your endurance, stamina. Helps you enhance your resistance to occasional stress."
Raw Fit is more naturally filling because it contains organic soluble and insoluble fiber from certified organic grains, seeds, legumes and fruits. In an article about fiber, Jordan Rubin said, "Because these foods (foods high in fiber) satiate hungry appetites without a whole lot of calories."
Health Food Emporium is an online health food store that specializes in whole food solutions to encourage our customers' healthy lifestyle.