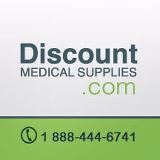 As a rapidly growing medical superstore, DiscountMedicalSupplies.com offers a unique online experience.
(PRWEB) May 08, 2013
As a rapidly growing medical superstore, DiscountMedicalSupplies.com offers a unique online experience. It provides quality medical supplies to patients, caregivers and practitioners at low prices. Now, with the "baby boomer" generation beginning to turn 65, the store is seeing trends in the orders it fills for people who are 50-and-over.
The staff at DiscountMedicalSupplies.com says there are five major trends in top medical supplies for seniors.

Pain management products and related items such as pain relief gels and electrodes.
Mobility equipment like walkers, rollators and canes.
Diabetic supplies which include blood glucose monitoring systems, organizers, and diabetic shoes.
Incontinence care products and related supplies.
Wound care supplies such as gauze, sponges, ointment and wound dressings.
DiscountMedicalSupplies.com owner Dr. Jon Segal believes this kind of information could be helpful to practitioners and caretakers who want to make sure older Americans who are in need of medical supplies get the help they need. As Dr. Segal explains, "We really value our seniors and older customers, so we strive to give them the best quality supplies at the lowest prices." Segal says his company's commitment to seniors is one reason why the website is designed for user-friendly browsing, easy ordering, and fast shipping.
DiscountMedicalSupplies.com also offers seniors and baby boomers important information about individual products as well as live help from a highly trained staff. "We include all of this extra information, so people can feel empowered, and we want them to know they can rely on us for that," says Dr. Segal. He says the website will soon host more customer reviews for specific products.
The company provides medical products for a variety of uses, including chiropractic, rehabilitation, massage, acupuncture, fitness, bathroom safety and physical therapy. In addition to serving patients and practitioners, DiscountMedicalSupplies.com ships to distributors and wholesalers. It also provides free shipping on all orders over $100 in the continental U.S., as well as daily specials.
About Discount Medical Supplies:
Discount Medical Supplies is a medical equipment and supply company operated by caring physicians. It offers the highest quality medical supplies to practitioners, patients, caregivers, and families at the lowest available prices. It also provides easy ordering and fast delivery. To see what Discount Medical Supplies can do for your business, visit http://www.discountmedicalsupplies.com.