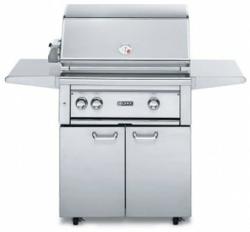 ...Lynx Professional Grills has made creating an outdoor kitchen easier than ever.
Ballwin, MO (PRWEB) May 07, 2013
Online appliance retailer, Goedeker's is proud to now offer grills and other outdoor cooking appliances from Lynx Professional Grills.
From built-in to freestanding grills, Lynx Professional Grills has made creating an outdoor kitchen easier than ever.
Explore fine Lynx products at Goedekers.com today.
About Goedeker's
Goedeker's is a leading online retailer of appliances, mattresses, furniture, and plumbing supplies. Ever since 1951, Goedeker's has practiced excellent in customer service. Now, Goedeker's brings that same hometown service to the entire continental United States via the Internet. Explore GE Appliances, discount appliances or other fine products Goedeker's offers at Goedekers.com.
About Lynx Professional Grills
Since its launch, Lynx has set the standard for design, innovation and engineering excellence, introducing proprietary technologies and custom features to ensure consumers have the ultimate Lynx experience.
With continuous innovation a hallmark of the company, Lynx's design engineers have continually introduced a long list of "firsts" to the industry while others follow. They are constantly seeking to add enhancements to existing products to make what is already a great cooking experience for consumers, an even better one.
This dedication to innovation has resulted in such advances as Lynx's hood assist kit, which makes lifting and lowering the grill's hood effortless; the Lynx ProSear variable infrared burner, for cooking at high and low temperatures, and the use of cast brass burners for holding and radiating high temperatures.
Lynx outdoor kitchen products embrace fine craftsmanship, and the company is proud of its highly trained employees who have developed their skills over many years of employment with Lynx Grills.