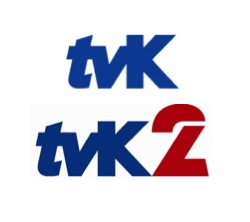 TVK24 is excited to join Time Warner Cable's lineup in serving the Korean-Americans and Asian-Americans with 24-hours of Korean programming
Los Angeles, CA (PRWEB) May 07, 2013
TVK24, a leading Korean cable network provider in the U.S., announced the launch of TVK and TVK2 on Time Warner Cable in the New York/New Jersey service area.
TVK is a 24-hour cable channel dedicated to serving the Korean-speaking community with a mix of news, dramas, movies, sports, business, health, game shows, entertainment and educational programming.
TVK2, a sister channel to TVK, targets the 1.5 and 2nd generation Korean-American audiences and features music, lifestyle, drama, news and current event programs in both Korean and English. TVK2 also offers original programming, in English, geared to 2nd generation Korean-American. TVK and TVK2 are available on digital basic cable from Time Warner Cable.
"TVK24 is thrilled to serve the 2nd largest U.S. Korean community, New York and New Jersey areas with the launch of TVK and TVK2," said Eric Yoon, Founder & CEO at TVK24. "With the high popularity of K-Pop and Korean dramas, TVK24 is excited to join Time Warner Cable's lineup in serving the Korean-Americans and Asian-Americans with 24-hours of Korean programming. TVK24 has been providing K-Pop music videos on Video On Demand to Time Warner Cable since last year and with the launch of TVK and TVK2, viewers will enjoy additional local original programming including news and programming from Korea."
TVK is now available on channel 535 and TVK2 is on channel 537. For more information about TVK and TVK2 availability on Time Warner Cable, please visit http://www.timewarnercable.com.
About TVK24
Headquartered in Los Angeles, California, TVK24 is a leading Korean broadcaster in the U.S., owning and operating 2 digital 24 hour television networks. TVK and TVK2 aggregate and broadcast the best programming from Korea-based networks in combination with TVK24 original programming such as daily news, cooking shows, golf shows, auto shows, sporting events, weekly lifestyle and community related shows and local reality and documentary series. The majority of TVK24 sourced content is exclusive to TVK services. TVK24 is distributed by International Media Distribution, a wholly owned company of NBCUniversal. For more information, visit http://www.tvk24.com.
About Time Warner Cable
Time Warner Cable Inc. is among the largest providers of video, high-speed data and voice services in the United States, connecting more than 15 million customers to entertainment, information and each other. Time Warner Cable Business Class offers data, video and voice services to businesses of all sizes, cell tower backhaul services to wireless carriers and, through its NaviSite subsidiary, managed and outsourced information technology solutions and cloud services. Time Warner Cable Media, the advertising arm of Time Warner Cable, offers national, regional and local companies innovative advertising solutions. More information about the services of Time Warner Cable is available at http://www.timewarnercable.com, http://www.twcbc.com, http://www.navisite.com, and http://www.twcmedia.com