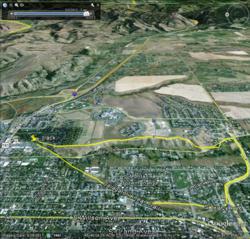 User-centric products are where this whole game is headed because hard core users know more about this stuff then 99% of the manufacturers
Bozeman, MT (PRWEB) May 04, 2013
The new Suunto Ambit 2 wins the geeky gizmo title for best new GPS watch for the outdoor techno types that like 1,000 apps, 3-D compass, barometric altimeter, mapping, speed, distance and backtrack maps according to the Heart Rate Watch Company.
"This watch has more technology packed into it than any other GPS watch ever made", says Rusty Squire, President of the Heart Rate Watch Company. He adds, "The onscreen bread crumb trail with arrows for trackback is really cool and with over 1,000 apps you can customize it for everything from downhill skiing to weather".
APPS
The 1,000 plus user apps cover every outdoor sport under the sun and offer a variety of functions as broad as a user's imagination according to Squire. "Suunto heart rate monitors have been at the cutting edge of involving users in the product development experience and many of the apps have been developed by users", says Squire.
"User-centric products are where this whole game is headed because hard core users know more about this stuff then 99% of the manufacturers", says Squire. He adds, "Bluetooth Smart is also becoming a driving force as an inter-device communications standard thanks to Smartphone manufacturers, they are the dog that wags the tail".
"We just completed a full blog report at the Heart Rate Watch Company blog called Suunto Ambit 2 - The Ultimate Guide", says Squire. He adds, "Make sure and check that out because it explains all the differences between the three models".