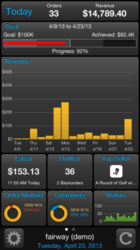 (PRWEB) May 07, 2013
Nexternal, a leading in cloud based eCommerce platform provider is excited to announce that its Dashboard Plus iOS Application is now available in Apple's iOS App Store. As with all updates and enhancements to Nexternal's eCommerce platform, there is no additional charge associated with this app.
Dashboard Plus allows merchants to easily check their sales metrics on iPhones, iPod touches, and iPads by simply launching an app. At a glance, sales data for today, revenue progress, last order info, order fulfillment status, top selling products, order method, and customer visit information is all presented in a beautiful graphical interface. Additionally, merchants have the option to activate a push notification, sending them real-time order info so they can have instant awareness of order volume without having to actively monitor it. Merchants can now check on their store's performance the same way that they check Facebook or Twitter updates on their phone.
Allan Fishler of ThinkEDU concluded, "Nexternal's Dashboard Plus App is very cool! It is great to be able to look at our daily and weekly stats at a glance from wherever we are. I'm always curious how sales are and being able to take a quick look while out at dinner is very convenient. The CHA-CHING new sale alert sound is both hysterical and heartwarming and puts a smile on my face every time I hear it. Great job in developing a very useful app!"
Alex Gile, President of Nexternal added, "As eCommerce becomes more mobile and more integrated, it is important to us that our clients can always access the info they need to quickly check on the health of their business. We can no longer assume that a merchant will be sitting at their desk when they need this critical info. Our new Dashboard Plus iOS app makes it easy for merchants to check on the status of their business from anywhere. Selling online has never been so much fun."
About Nexternal
Nexternal offers a feature-rich, hosted eCommerce platform that allows brands to manage and grow their online sales with ease. Personalized account support, powerful marketing tools, efficient order processing, and a robust API are some of the many benefits offered to Nexternal's clients. Founded in 1999, the company's unique eCommerce platform is used by hundreds of clients in many diverse industries. Nexternal's software features an always-on screen shopping cart with integrated marketing and fulfillment tools allowing merchants to maximize revenue while minimizing operating costs. Nexternal's software was rated five out of five stars by Internet.com and is a three time SIIA Codie awards finalist for Best E-Commerce Software. Clients include Weyerhaeuser, USA Today, Ste Michelle Wine Estates, Taser International, and Hershey. For more information, contact Nexternal via phone at 800.914.6161 or online at http://www.nexternal.com