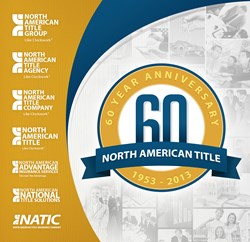 Celebrating our 60th anniversary is not only exciting, it allows us to remember we could not have done it without the support of our customers and dedicated associates.
-Linda Reed
MIAMI, FL (PRWEB) May 20, 2013
North American Title Group (NATG) and its family of companies' 60th Anniversary marks a significant company milestone. Beginning as American Title in 1953, the company has steadily grown by perfecting and improving upon title industry standards to navigate through the market's ever-changing tides. It attributes its success to its three core principles: Dependable Service, Financial Stability and Underwriting Flexibility.
Speaking at an industry-event, Linda Reed, President of North American Title Group, Inc. said, "Celebrating our 60th anniversary is not only exciting, it allows us to remember we could not have done it without the support of our customers and dedicated associates. Thank you both for making North American Title Group the success it is today and for your unwavering patronage in the future."
In an industry that has been flooded with small title agencies that quickly come and go, stability is a critical factor to industry regulators, industry peers, industry associates and the market at large. Provided is a brief overview of the companies' growth.
1953 | American Title Branch network began.
Promptly spanned 15 Southern California locations.
1983 | North American Title Company (NATC) was established.
Northern California locations were added.
1984 | In Florida, Lennar established its first title agency, Universal Title Insurors, Inc.
1985 | Glendale Federal Bank acquired both American & North American Title Companies.
1988 | Glendale, aided by the California Dept. of Insurance, merged both companies into North American Title Company (NATC).
1991 | North American Asset Development Corp. (NAADC) purchases NATC.
Underwriting operations begin with acquisition of First American Aircraft Title Insurance Co.
Name is promptly changed to North American Title Insurance Company (NATIC).
1993 | West Coast expansion begins with Arizona & Colorado.
1994 | Lennar organically forms a new Florida domiciled title underwriter, Title America Insurance Corporation, which is later renamed North American Title Insurance Corporation (NATIC).
1996 | NATC and NATIC expand into Texas.
1998 | Lennar acquires NAADC through its title operations holding company, NATG.
2001 | NATC and NATIC expand into Nevada.
The unifying NATC brand and logo are implemented across all agency divisions and offices.
2002 | NATC expands in Washington DC, Maryland & Virginia.
2003 | NATC enters Illinois.
2004 | NATC begins operations in Minnesota, Pennsylvania & NATIC expands into North & South Carolina.
2005 | NATIC expands into Delaware & New Jersey.
2006 | NATIC enters Wisconsin & NATC enters New Jersey.
2007 | Merger of two affiliated underwriters makes NATIC one of the largest regional title underwriters (by policyholder surplus) in the country.
NAAIS is established to cater to the property and casualty insurance market.
2009 | NATIC expands into Georgia, Maryland, Alabama, Pennsylvania & Virginia independent agency market.
2010 | NATIC expands into Massachusetts.
2011 | NATG establishes a centralized national platform, NANTS, to efficiently handle national business from some of the biggest players in the real estate & lending communities.
NATIC is authorized in Kentucky, Michigan, Mississippi, & Utah.
NATC begins operations in Utah.
2012 | NATIC expands into Washington & Oregon.
2013 | North American Title Celebrates its 60th Anniversary.
North American Title Company and its numerous subsidiaries comprise one of the largest real estate settlement services organizations in the United States, handling both residential and commercial transactions. NATC operates primarily in the title agency and title underwriting business segments.
Now listed among the nation's largest title companies, NATC plans to continue its growth in the coming years. The company has listened to its customers and has adapted new technologies to meet their needs. NATC harnesses the power of technological advances to create leading tools for its clients. A close-knit team of professionals has worked together for a very long time to make great strides in improving various facets of how the industry works and looks today. The team's unique approach makes it very attractive to agents and associates alike, as evidenced by its continued success.
About North American Title Company (NATC)
With well over 1,000 associates, a vast network of branches from coast-to-coast and annual gross revenues in fiscal 2012 of approximately $200 million, North American Title is among the largest real estate settlement service providers in the United States. Consisting of both agent and underwriter operations, NATC has the resources and stability of parent company, Lennar Corporation, an S & P 500 Company, with over $10.3 billion in assets (fiscal year ending November 30, 2012.) North American Title's agency network operates nationally under the name, North American Title Company ("NATC"), and is located from coast-to-coast in 16 of the fastest growing states. Through our relationship with our affiliated underwriter NATIC, expanding affiliate network and agency partners, NATC provides real estate settlement services in all 50 states. NATC is headquartered in Miami, Florida. To learn more, visit http://www.nat.com.