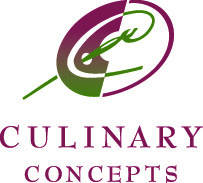 San Diego, CA (PRWEB) May 06, 2013
Culinary Concepts, a premier catering company in San Diego for over 20 years, is excited to announce that Chefs Donald Coffman, and Javier Santero have joined the team as Executive Chef and Director of Operations, respectively.
Native to San Diego, Donald Coffman spent his childhood in the kitchen, cooking for his family in a single parent home. Since the day he learned to cook perfect rice (at age 5!), Donald has spent his culinary life honoring the abundance of local and sustainable ingredients that our region has to offer. His commitment to Slow Food principles has made him a core member of San Diego's Cooks Confab, and over the past two years he has elevated the menu at Paradise Point. Chef Donald has also graced the kitchens at Waters Catering, Milles Fleurs, Laurel, Café Japengo and the Hotel Del – where he began as a dish washer at age 15. Notably, Donald also worked alongside Charlie Trotter and Roxanne Klein during their Raw book tour in 2007. Donald's cooking style reflects his passions for local, sustainable and responsible menus. Culinary Concepts looks forward to seeing his passions reflected in their menus.
At the helm of the Culinary Concepts operations team, Javier Santero brings a wealth of experience and knowledge as well as his passion to create extraordinary memories. Javier is a Spanish native, born in Plascencia, Spain, and attended the University of Salamanca as a major in Nuclear Atomic Engineering. Despite his smarts in the sciences, Javier found his passion while working as a busboy at Rancho Bernado Inn just after he moved to the US at age 22. Working a wedding and seeing the sheer joy and excitement it brought to the guests, he parted ways with his studies, and never looked back. Over the years, Javier has built his resumé at the Four Seasons Aviara, the Grand Del Mar, Terranea Resort & Spa, and finally alongside Donald at Paradise Point.
###
About Culinary Concepts:
Since organization in 1993 Culinary Concepts aims to fill a void San Diego's premier catering industry. They offer customized solutions to the meet the demands of their clients and give back to the community, supporting local non-profit organizations. The Culinary Concepts team listens and collaborates with each client and draws from creative synergy and experience to adhere to excellence in event management for discerning business and consumer customers desiring a unique and memorable experience.