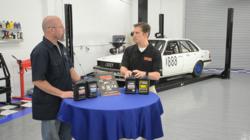 Morgan Hill, CA (PRWEB) May 03, 2013
Andy's Auto Sport was recently visited by Lake Speed Jr., son of the well-known NASCAR driver, and explained the philosophy behind Joe Gibbs Racing's product line. Being a certified lubrication specialist, Speed certainly knows engine oil and what factors limit its operation. The topic at hand was the standards set by the American Petroleum Institute and way that it has influenced Joe Gibbs Racing's "Driven" line of racing-oil.
Basically, the powers that be have pressed the API to start mandating rules that will, in theory, reduce emissions. While they have succeeded somewhat in this regard, the fact of the matter is that every kind of engine requires a certain blend of oil, and the modern standards of oil don't address the requirements of high-performance motors.
The modern era dictates lower emission levels and oils are modified accordingly. Unfortunately, many of these newer oils are designed for engines with low lift, low duration and low spring pressures – basically, for easy driving to and from the shops. Because of this, they lack the proper quantities of essential lubricating components such as zinc, phosphorous and sulfur, which are things a high-performance engine requires. Furthermore, modern oils have a higher proportion of detergents which are designed to wash away the grime that accumulates within an engine, but the unfortunate side-effect of these detergent-heavy oils is that it can wash away the essential lubricating components in the process, depending on the application.
In fact, in the past 6-8 years, engines with high-lift cams have been failing with some regularity, due to the fact that modern oils can't keep up with the task. Generally, if these modern kinds of oil are placed in an engine that will be revving high and generating lots of heat, chances are it will cause considerable damage. Fortunately, Joe Gibbs Racing is a company that caters to those who are looking to properly lubricate their high-performance engine.
Their line of oil caters to Sprint Car-V8's, 4-stroke go-karts, small-displacement turbo-engines and more. They accurately calculate what kind of conditions the oil must work under to determine the ideal composition. For instance, if a street car receives the addition of a supercharger, but maintains the same clearances and the standard oil pump, an oil with factory viscosity grades and certain performance additives would be the ideal choice. Driven offers specific oils for engine break-ins and gearbox break-ins as well as manual transmission fluid, power steering fluid and more. Their oils have a higher level of zinc and other ingredients that help establish an anti-wear film thereby providing long-lasting protection.
Driven Racing Oil is an innovative product line that is intended for giving back to the performance industry, without incurring any drawbacks on the environment. A point worth understanding is that properly designed engine oil will actually help minimize emissions. The guys at Driven are intent on appealing to both sides of the coin –those looking for a greener planet and those who are looking to maintain and enjoy their performance vehicle. Andy's Auto Sport wishes them luck!
For more information, visit AndysAutoSport.com, AndysAutoSportTV.com, or YouTube.com/AndysAutoSportTV.
Andy's Auto Sport is an online retailer and wholesaler of OEM and aftermarket automotive parts and accessories, and is the largest retailer of aftermarket body kits in the world, with more than 2 million unique online visitors per month. The company serves customers worldwide and has been featured in magazines such as Import Tuner, Modified, Low Rider, Truckin', as well as on television shows such as Pimp My Ride, Street Fury, Trucks!, and Two Guys Garage.