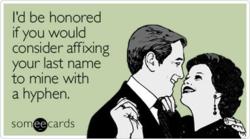 If you want something to last forever, you treat it differently. … It becomes special because you have made it so.
F. BURTON HOWARD
(PRWEB) May 05, 2013
AncestorEbooks voices grave concerns over the burgeoning trend of newly married spouses 'meshing' their surnames to create a whole new name. Tuesday 30 April 2013, The Telegraph announced, that the practice of meshing surnames is becoming increasingly popular in Britten, with women who find themselves the last of their family line.
Instead of accepting their spouses surname, many women opt to maintain a link to their family name by including it in their new married surname. Until recently the choices included keeping their own surname, accepting their spouses surname, using the maiden name as a middle name or changing to a double-barreled surname by adding a hyphen. Now meshing (or combining) the surnames is the fast growing trend.
Emma Barnett, the Women's Life Editor, Award winning LBC97.3 Sunday radio host in London, found herself understanding why this trend is growing so quickly after having just faced the loss of her surname, and somewhat her identity, when being referred to by her new spouses surname.
The Daily Mail, Online published November 9, 2012, 800 British couples, in their 20s and 30s and as a show of solidarity, are no longer joining their surnames with a hyphen. Instead they are choosing to "mesh" their last names into one new name for both spouses, using as an example Mr. Pugh and Ms. Griffin who are now Mr. and Mrs. Puffin.
The Legal Deed Poll Service.org, an issuer of government approved documents used in changing names in the UK, under the heading Your rights, provides the following explanation of a woman's rights upon marriage. 'More and more women are deciding against giving up their surname for their husband's surname on marriage.'
Using the Deed Polls the husband to be could save money by changing his name, two months before marriage, to the 'Meshed' surname. 'For example, if Sarah THOMPSON marries Michael SIMMONS, they might mesh their surnames to become Sarah and Michael SIMMSON or THOMONS.'
Ben Zimmer, on Wed, August 16, 2006, on Slate.com titled, Keeping Up With the Smoneses, gives a brief history of the beginnings of 'Meshing' in the 1970s along with the few examples journalists usually point to when writing about this subject.
In the closing paragraph of his article Zimmer writes, 'Despite three decades of experimentation, the blending of surnames still subverts expectations in a way that seems to make many people (including some journalists and columnists) deeply uneasy.' To which AncestorEbooks wholeheartedly agrees.
Researching Family History using surnames is the thread that ties families together through the centuries. This vital thread will be fatally broken if meshing of surnames continues. Searching through dusty records for the correct Jones family link, for instance, would end where a couple's wedding license and certificates were signed.
After the official papers are signed and dated, the couple can then choose to 'mesh' their names together, as stated by The Legal Deed Poll Service.org.
Could this be the end of genealogy?  '#Meshing, When spouses blend their names after marriage, could be very difficult for future generations to trace their family lines', tweets AncestorEbooks owner, C Besendorfer. Concluding, 'Family History is more than knowing your roots, it can be a way that, with the use of genetics, Doctors protect the in utero babies from family diseases. http://www.progenealogists.com/genetics.htm
This growing trend of 'meshing' will make researching family history research more labor intensive where there isn't a link between the individuals, their marriage certificate and the new meshed surname.
Then, as Barbara Henritze wrote in her November11 Genealogy Research Blog http://www.barbarahenritze.com/index.php/research-blog 'Then the inevitable question comes up, what to do when two hyphenates marry, create a four barreled name? Leaving aside the social questions, how does this compound surname type affect research?' Is it really worth losing both family "identities" to become a previously unknown family?
AncestorEbooks asks couples, "Why leave behind two entire family lines when beginning a new life together?"