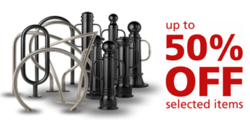 Lower prices, faster production times, more product kept in stock, and the possible introduction of new models are all going to benefit Reliance Foundry's bike parking customers.
(PRWEB) May 23, 2013
Reliance Foundry Co. Ltd., North America's premier supplier of bollards, bike racks, and custom castings, is happy to announce that it is reducing all prices in its catalog of innovative bike racks. The price reduction is the result of a new manufacturing partnership and will take effect immediately. The new partnership has resulted in a more efficient manufacturing process and lower production costs. It will spell out several advantages for commercial bike rack installers, the most notable being the drastic price reduction. The reduction has been applied to all models, including those composed of stainless steel, and it will equal the potential savings of up to 50% for Reliance Foundry's customers.
"At Reliance Foundry, we're constantly looking for ways to produce our products more efficiently," says Brent Done, President at Reliance Foundry. "This new partnership is all part of that process and it is allowing us to pass increased savings on to our bike rack customers."
From this point forward, all of Reliance Foundry's bike racks will be produced at a facility that has been optimized for bike rack production. The manufacturer brings over 25 years of expertise to the partnership and has developed some of the most efficient means for production in the bike parking industry. Detailed inspections are continuously carried out to ensure quality and finished products are rigorously tested to ensure that they deliver the same quality and endurance for which all of Reliance Foundry's products are noted. The facility has the capability to apply powder coating and this will allow standard textured black bike racks to be finished and stocked at a faster rate. Other powder coating options will continue to be made available but will be offered at a premium and may require an extended production time. The more efficient production process will make bike racks more readily available and cheaper. It may also spell out the potential introduction of innovative new models. Reliance Foundry has already begun to pass the savings on to its customers and the new prices can be viewed online at: http://www.reliance-foundry.com/bike-storage/reliance-foundry-bike-rack-price-list
"This new manufacturing partnership made sense for a lot of reasons," says Reliance Foundry's Sales Manager, Rick Pasternak. "Lower prices, faster production times, more product kept in stock, and the possible introduction of new models are all going to benefit Reliance Foundry's bike parking customers."
Reliance Foundry's bike racks encourage healthy lifestyles and help businesses and communities promote their commitment to the environment. They feature cutting-edge and innovative designs and offer and exceptionally high level of durability. Reliance Foundry offers both stainless steel and powder–coated models that can be easily installed on most concrete surfaces. To view the innovative bike rack designs and the reduced pricing, visit Reliance Foundry's online bike parking catalog.
About Reliance Foundry Co. Ltd.
Reliance Foundry has been a trusted supplier of cast metal products since 1927. Specialists in bike rack design, production and installation, Reliance Foundry's innovative catalogue also features industry-leading bollards and commercial-grade, steel wheels. Reliance Foundry sources cast metal solutions from across the globe to provide competitive prices and conveniently ships to all locations within North America. Reliance Foundry is the proud recipient of the Surrey Board of Trade's 2012 Business Excellence Award.