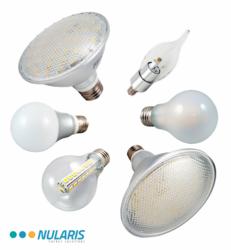 Sedona, Ariz. (PRWEB) May 05, 2013
Energy efficient LED lights installed by lighting company Nularis Energy Solutions will save 42 businesses in Sedona Arizona a projected 84% of what they spend on power for their lighting this year.
The lighting was installed for little to no cost thanks to rebates from utility provider Arizona Public Service (APS) and their trade ally, Nularis, Inc. Nularis also provides financing that makes LEDs a zero-out-of pocket way to embrace this energy saving technology.
"My electric bill actually dropped by more than Nularis said it would," says Peggy Lanning, owner of Lanning Gallery and Turquoise Tortoise Gallery in Sedona, Ariz.
While the reduction in wattage provided by switching from halogen bulbs to LED bulbs is very important, the fact that LED lights produce almost no heat may be one of the biggest benefits to businesses. Especially in a city such as Sedona, which sees summer temperatures in the 90s.
"Halogen bulbs, which burn at many hundreds of degrees, can quickly turn any store into a sauna. Imagine how warm it gets in city known for its beautiful desert landscapes," says Kyle Schee, Marketing Director for Nularis, Inc.
According to Schee, one business owner saw the average temperature in his store drop by 13 degrees, which also dramatically reduced the cost of his air conditioning.
APS created the LED rebate program to reduce power consumption in Arizona in order to meet clean energy mandates. The rebates typically pay for 50-100 percent of the project. Nularis became a trade ally with Arizona Public Service and began installing LED lighting in Arizona in 2011.
Nularis estimates that by installing LED lighting, its customers in Arizona have reduced greenhouse gas emissions by more than 1 million pounds per year.
Lanning Gallery and Turquoise Tortoise installed LEDs in May 2012.
"One of my galleries has been in business for 42 years, so change comes hard to our business." Says Lanning. "But if I had to do it all over again, I definitely would."