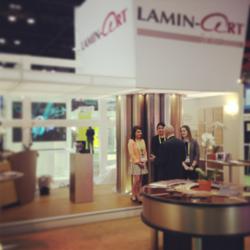 "Porcelain (#2422) gives us a clean modern feel, but also presents some texture that accentuates the free flowing shape of the structure," says designer Vincent Celano
SCHAUMBURG, IL (PRWEB) May 07, 2013
It's a year of firsts for both the annual Hospitality Design Exposition & Conference (HD Expo) and Lamin-Art, Inc., the North American leader in architectural surfaces. The expo, taking place in Las Vegas May 15-17, is scheduled to host its first ever Social Hub, an event space that will be designed using a Lamin-Art product from the Pearlescence collection.
The Social Hub is premiering as an interactive networking space situated at the center of the showroom, booth #1955. The space will be designed by New York-based designer, Vincent Celano, the creative force behind hospitality hotspots like Bagatelle, Liv Miami, and Holstein's at the Cosmopolitan.
Featuring a bar and lounge areas, the Social Hub will give attendees the chance to view a Lamin-Art product in a large-scale application, all while they mingle and recharge over curated cocktails and small plates. This will also be a great opportunity for designers and architects to meet Celano, as well as the Lamin-Art team—including vice president of national accounts, Matthew Krog, and vice president of sales, Georgy Olivieri.
For the space, Celano is incorporating 160 sqft. of the elegant Porcelain (#2422) product from Lamin-Art's Pearlescence Solid Colors Collection, which features a full range of expressive hues with rhythmic vitality not found in standard solid colors. The designer will also be applying the Corrugated finish, producing a dimensional surface of alternating furrows and ridges with a soft finish comprising low reflective properties.
"The level of collaboration between our team, HD, and each of the participating vendors on this project is very exciting. Everyone came together as products and technology were plugged into the design concept and the space took form," says Vincent Celano. "Porcelain (#2422) gives us a clean modern feel that also presents some texture that accentuates the free flowing shape of the structure."
At their primary booth at the expo, Lamin-Art will be debuting Metal-Art™, an exclusive collection of handcrafted, embossed metallic surfaces featuring large-scale, three-dimensional designs with an artisan touch. Designers and architects are invited to mingle with the Lamin-Art team at a kick-off cocktail reception, as well as leave their business cards for a chance to win one of two pairs of designer sunglasses—all at Lamin-Art's booth #1701.
-----------
About HD Expo:
Hospitality Design Exposition & Conference is the premier trade show for hospitality design professionals. The HD Expo connects buyers of design with the newest and most innovative product offerings—and provides a venue for industry networking.
About Vincent Celano:
Vincent Celano has made his name in hospitality design and architecture, working with brands like W Hotels and Resorts, Rosa Mexicano, and Mohegan Sun. Celano headed the design and management of projects for some of the most sought-after firms in the industry, including Rockwell Group, Jeffrey Beers International, and ICRAVE. In 2005, as cofounder of Seed Design Studio, Celano cultivated and worked with a highly talented team that worked on high-profile spaces across the country, including LIV Nightclub at Miami Beach's Fontainebleau Hotel, Tippling Hall and Little Market in Chicago, Bagatelle and Heraea in Las Vegas, and Racanelli in New York.
About Lamin-Art:
Lamin-Art, Inc. is the North American design leader in architectural surfaces, including laminate, real wood veneer and metallic surfaces. Lamin-Art partners with interior designers, architects and fabricators to facilitate their visions by providing innovative products that add value and elegance to interiors. With a philosophy of anticipating trends, Lamin-Art develops innovative, durable, design-enhancing surfaces that are used such industries as hospitality, retail, healthcare, education and more. Visit http://www.laminart.com for samples or additional information.
FOR MORE INFORMATION (or to schedule an interview with a top player), please contact Erin Walgamuth, Communications Coordinator.