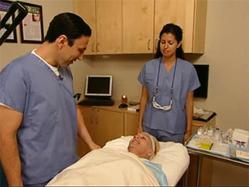 Los Angeles, CA (PRWEB) May 05, 2013
According to an April 29, 2013 Discovery Channel article, the American Society of Plastic Surgeons documented more than 15,000 upper arm lifts in 2012 alone. In comparison, plastic surgeons performed only 300 upper arm lifts in the year 2000. Increased success in extreme weight-loss efforts may be one reason for the upsurge in popularity of this procedure. (Go to goo.gl/kHdjX).
"It's wonderful to see a public figure such as Michelle Obama inspiring others to improve themselves," says Dr. Simon Ourian, Medical Director of Epione Beverly Hills. "I suspect, though, that the increase in upper arm lifts is more likely correlated to the significant growth in bariatric surgeries since 2000."
The article goes on to say that with extreme weight loss, excess skin under the arm is quite common and that this is an area of the body many post-weight loss patients are unhappy with.  Among patients who successfully lose large amounts of weight, many seek a tummy tuck as their first plastic surgery and then an upper arm lift next. The rise in popularity of the upper arm lift procedure may be partly attributed to the well-toned arms of public figures such Michelle Obama.
 
As reported in the article, an upper arm lift will cost about $6,000 to $8,000, depending on the doctor and specifics of the procedure. One drawback to this surgery is that it leaves a scar on the upper arm, though plastic surgeons try their best to place this scar where it will be least visible. 
"Excess skin is an unfortunate byproduct of extreme weight loss," says Dr. Ourian. "Fortunately there are surgical options available to address this issue."
Dr. Ourian has been a pioneer in laser technology and non-invasive aesthetic procedures including Restylane, Juvéderm, Radiesse and Sculptra. These treatments are used for the correction or reversal of a variety of conditions such as acne, acne scars, skin discoloration, wrinkles, stretch marks, varicose veins, cellulite, and others. More information about upper arm lifts can be found on Epione's website.