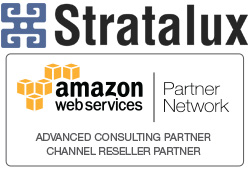 Amazon customers want familiar tools like Microsoft Excel spreadsheets to price, optimize and run what-if scenarios on their cloud resources.
Los Angeles, CA (PRWEB) May 07, 2013
Recognizing that pricing projects built on top of Amazon Web Services can be confusing and challenging, Stratalux today has announced the release of a free Excel spreadsheet to aid in this effort. Stratalux's Excel spreadsheet allows users of AWS to price out, optimize and run what-if scenarios on their cloud projects.
One of the great things about Amazon's public cloud offering is the flexibility of their solution, however this brings additional challenges when trying to price solutions. Recognizing this need Stratalux decided to make public its AWS pricing tool. "Customers are always asking what the cost implications would be if they change the size or their EC2 Instances or move from one region to another", stated Jeremy Przygode, CEO of Stratalux. "With their needs in mind we decided to make this tool available to our customers and the broader Internet community".
Amazon Web Services has many thousands of different pricing permutations for their services which makes pricing AWS confusing and challenging. For example the price of an m1.large instance can vary greatly depending upon which region it belongs to, what Operating System is installed, and whether or not the instance is reserved for one or three years. Additionally Amazon customers need tools that keep up with Amazon's pricing updates and service enhancements. "Amazon has reduced its pricing as many as 26 times over the last few years. This is great for customer's bottom line, but challenging when trying to price new solutions or understand current costs", said Przygode. Przygode continues, "Stratalux is committed to providing regular updates to our pricing tool as Amazon changes pricing and releases new services".
Stratalux's AWS Pricing Tool is a compliment to Amazon's own online calculator, but it allows users to use familiar tools like Microsoft's Excel. "What AWS users want are familiar tools like Microsoft Excel spreadsheets to be able to budget and share the cost of their AWS projects within organizations", states Przygode. Stratalux hopes to help alleviate some of these challenges with the release of this spreadsheet.
To download your own copy of this tool, please visit our site at http://www.stratalux.com/aws-pricing-spreadsheet
About Stratalux, Inc.
Stratalux is the leader in building and managing cloud solutions for commercial customers. Focused on building highly trafficked and fully automated website infrastructures for companies on the Internet, Stratalux leverages decades of experience from the world of traditional IT while being recognized as a leader in migrating and managing websites built on public cloud resources. Stratalux has partnered with best of breed cloud solution providers including Amazon Web Services (AWS), OpsCode's Chef, and Rightscale, among others. Stratalux is a cloud solutions company, that has a singular focus on cloud technologies enabling its customers to focus on what's really important; their business.