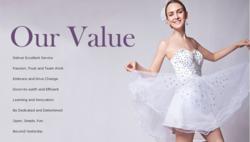 (PRWEB) May 04, 2013
Dresses1000.com is a leading online store for Quinceanera dresses, and well-known for its Quinceanera dama dresses. Today, the company announces great savings on all its Quinceanera dresses. All customers can get a discount, up to 58% off, during May 2013.
The Quinceanera dresses from Dresses1000 are famous for the fashionable designs and gorgeous looks. Breathtaking blues, radiant reds, gorgeous gold, and cool greens are some of the many choices available in awesome designs and at reasonable prices. The fast evolving customer-oriented dresses and services have helped Dresses1000.com become one of the world's leading brands of women's dresses.
"We are excited to launch the promotion to show appreciation to our customers, and expand our online market share as well," says, Sherri Wang, CEO of the company. "Now, all our Quinceanera dresses are available at discounted prices. Those who want to buy cheap Quinceanera dresses online should visit our online store as soon as possible."
In addition, Dresses100.com has organized an elite group of product development, consisting of designers, pattern makers, buyers and quality controllers. All the dresses are 100% produced with high-quality materials, which can make the dresses special. Moreover, the company offers custom tailor services if customers provide their measurements. Whether choosing a standard size or custom measurements, all their dresses are personally tailored for everyone.
About Dresses1000.com
Dresses1000.com is a reliable manufacturer and retailer of all kinds of women's dresses (wedding dresses, sweet 16 dresses, hi-lo prom dresses, and more). Its mission is to 'make ladies more attractive' by offering stylish and high-quality women's dresses to each client. The company is trying to offer their customers more choices with affordable prices.