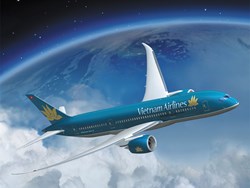 If tourists buy tickets by Credit Card, they must present their credit card at the time of check-in.
(PRWEB) May 05, 2013
Vietnam-airline.org has launched a new program entitled "Cheap Tickets For Everyone". In particular, customers booking tickets for flights from Ho Chi Minh City will get a great deal, discounting up to 50%. The program is applied for flights Ho Chi Minh – Hanoi/ Hue/ Danang/ Da Lat/ Bangkok/ Frankfurt/ Shanghai/ Singapore/ Beijing/ Sydney/ Los Angeles.
At present, Vietnam-airline.org is giving priority to flights between Ho Chi Minh City and Da Lat. With such big offers, it hopes to attract more passengers for this route.
To join the program, passengers just book a trip on the website and the booking system will automatically discount for each air ticket. The website provides a price list for flights; therefore, customers can thoroughly consider before choosing their flight. Besides, people are supplied with information on their booked flight such as flight time, distance, and departure time. For instance, Vietnam Airlines operates 2 flights/ day on the route of Ho Chi Minh City – Da Lat. However, during this peak season, Vietnam Airlines has announced to add 5 more flights to meet the travel demand of passengers. The flights from Hanoi to Ho Chi Minh City last for 35 minutes.
It is noted that if tourists buy tickets by credit card, they must present their credit card at the time of check-in. For more information on the program, customers can get access to the website Vietnam-airline.org or contact at 95 Doc Ngu Street, Ba Dinh District, Hanoi.