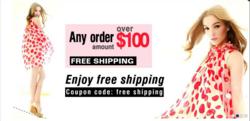 (PRWEB) May 04, 2013
Recently, EverMissFashion.com, a leading online store for vogue dresses, has launched a promotion for its new collection of vogue dresses 2013, including casual dresses, bodycon dresses, high low dresses, and swimsuits. According to Jessica Moore, CEO of the company, all these new dresses are available at greatly discounted prices during May 2013.
The dresses from EverMissFashion.com are popular for the affordable prices and the latest trends incorporated into the dresses. The new dresses are no exception for these new items, which come in various designs and styles. The company aims to help ladies to display their best figures with their dresses, like elegant sleeveless evening dresses, attractive A-line prom dresses, sexy bodycon dresses, etc.
Jessica Moore said, "We are excited to launch the promotion to acknowledge our customers. Now, anyone for any product from us can enjoy a discount. Each product goes through a strict inspection process before delivery, and customer information is strictly confidential here."
EverMissFashion.com has over 10 years of experience in the fashion industry, and focuses on high quality and affordable prom dresses and swimsuit products. They claim that it is essential to celebrate the sensuality and beauty of the woman figure instead of covering it up with piles of materials.
In addition, the company is offering heavy discounts on its other products, like leather jackets, jewelry, handbags, purses, and more. Moreover, discounted shipping costs are also available at EverMissFashion.com.
About MissPromDresses
Misspromdresses.com is a professional online store dedicated to providing high quality prom dresses, party dresses and so on at affordable prices. They have a vast knowledge of craftsmanship and consumer needs, which has helped them develop a great line of prom dresses.
To learn more about their stunning collection of prom dresses, please visit: http://www.misspromdresses.com/