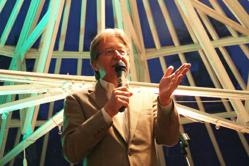 If we create a workforce that is prepared to do the right kinds of jobs, we have a much greater chance of high-growth business success creating the right types of companies.
Santa Ana, California (PRWEB) May 04, 2013
THINK Together Founder and CEO Randy Barth will be a featured panelist at the upcoming Innovation Economy Expo talking place May 9, 2013 at the Ontario Convention Center.
Top educational leaders from around the country, including representatives from nearly three-dozen colleges, universities and educational organizations, will join in this unique, crowd-driven, interactive forum to advance high-growth business success in a new innovative global economy.
"California's business leaders ought to be concerned with the trends we are seeing in the workforce," Barth said. "By the year 2020, it is projected that one million jobs will go unfilled because potential employees won't have the skills to fill them."
Barth cited statistics from the California Department of Education that shows Californians over the age of 50 are among the most educated workforce in the world while those under the age of 35 are the least educated in the world.
"If we create a workforce that is prepared to do the right kinds of jobs, we have a much greater chance of high-growth business success creating the right types of companies," Barth said.
Barth will be a featured panelist during a morning discussion titled, "The Need for Global Collaboration: The Future of High-Growth Business Creation," and at an afternoon session titled "The Power of Innovation Combined with Education: STEM, Entrepreneurship & Innovations in Education." To see the entire event program click here.
The Innovation Economy Expo, produced by ieCrowd, includes a general forum led by some of the nation's most influential business leaders, educators and service providers. There are also several focused workshops, a large Innovation Pavilion and a strategic networking reception. The inaugural effort is an important first step in building a crowd-driven collaboration platform to advance high-growth business success in a global economy.
"The opportunity to collaborate with such a broad base of forward thinking innovators, educators and business leaders at ieCrowd's Expo deserves our attention," said Rae Adams, Director of the P20 NBCT Leadership Center at the National University School of Education. "There are very few environments that facilitate this kind of collaboration that embraces change and new models of teaching and learning."
Other education participants include the University of California at Riverside; California State University San Bernardino; National University; California Baptist University; Chapman University; the Claremont Graduate University - Drucker School of Management; the University of Redlands; Cerritos College; Loma Linda University School of Public Health; California State University Fullerton; the University of Phoenix, and many others.
"ieExpo provides a platform for those of us who think out of the box and want to work with others who have the courage and knowledge to support one another in planning and action," Adams said. "My hope is that we push ourselves to look at what has not occurred, imagine the 'what if' and then work together to make the 'what if' happen."
Registration is open for everyone at http://www.innovationeconomyexpo.com
About THINK Together
THINK Together is one of the leading and largest nonprofit providers of academic support programs (early literacy, after-school, small group tutoring, summer learning, etc.) in the U.S., serving more than 100,000 students across 420 locations from San Diego to Sacramento. Partnering with school administrators and teachers, its academically oriented programs and dedicated team of 2,500 employees are helping students close the achievement gap. THINK is an acronym: Teaching, Helping, Inspiring & Nurturing Kids. For more information, call (888) 485-THINK or visit http://www.THINKtogether.org or http://www.facebook.com/THINKtogether
About ieCrowd
ieCrowd, located in Riverside, California, is a crowd-powered platform designed to transform innovations into high-growth ventures with global impact potential. With a philosophy of "Doing Good and Doing Well," ieCrowd is designed to enable everyone to participate in the social and economic opportunities created by developing and growing innovative ventures.