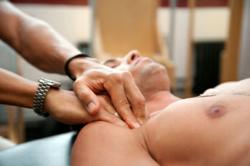 New York, NY (PRWEB) May 06, 2013
NY SportsMed, a leading provider of sports medicine and physical therapy services in Manhattan, New York, is pleased to announce their continued commitment to incorporating myofascial release therapy into most physical treatment plans at their three Manhattan locations. Myofascial release techniques are especially useful in treating patients experiencing back pain and other acute and chronic conditions affecting the muscles of the back, due to the muscular component of most back pain.
Myofascial release therapy, also referred to as MFR therapy, is a hands-on manual therapy technique that utilizes soft tissue mobilization techniques to relax muscles, improve circulation and lymphatic drainage, and increase flexibility by breaking up restrictions in fascia and surrounding connective tissue, such as muscles. During treatment, the physical therapists at NY SportsMed use their hands to detect areas of fascial restriction, and subsequently apply gentle but sustained pressure in order to facilitate the release of the fascia and connective tissue. Fascia is a thin layer of tough tissue that surrounds connective tissue such as muscle, providing support and protection to the tissue.
Most patients of NY SportsMed that are in need of physical therapy treatment receive a combination of myofascial release therapy, as well as a series of therapeutic exercises, as part of their treatment regimen. Since every treatment approach and rehabilitation program is individualized according to a patient's specific needs, the comprehensive approach to treatment may include other therapies and modalities as well. However, the combination of myofascial release and therapeutic exercises is a conservative approach to treatment that often results in positive outcomes. In fact, research has shown that pairing myofascial release and therapeutic exercises often equates to more favorable and permanent results than either treatment alone.
"At NY SportsMed, we have always incorporated myofascial release techniques as part of our overall treatment philosophy, especially in our patients experiencing back pain" explains Luke Bongiorno, Physical Therapy Director of NY SportsMed. "Our approach focuses on offering our patients a 'hands-on' approach, in which patients are not simply left to run through a series of exercises on their own after being shown what to do. Rather, our therapists work closely one-on-one with each patient and typically utilize myofascial release techniques to warm up and stretch muscles and tissues prior to patients performing their exercises. This helps to break up restrictive tissue, increasing flexibility and reducing pain. It also improves therapy outcomes."
Myofascial release therapy has been gaining increasing attention in the media in recent times. As an example, Ellen DeGeneres extolled the virtues of the technique during a monologue on her weekday talk show in early April, explaining to her viewing audience how she hurt her back while moving a heavy table, but that following myofascial release therapy, she was feeling much better and was no longer walking around with one shoulder six inches higher than the other. Although the increased attention may create the perception that myofascial treatment is a new therapy, the fact is that NY SportsMed has long been incorporating this effective, conservative manual therapy approach as part of their overall treatment philosophy.
An impetus to NY SportsMed's commitment to incorporating myofascial release therapy into most of their comprehensive treatment plans stems from the practice's Physical Therapy Director Luke Bongiorno. Luke is sought-after world-wide as an expert on myofascial release therapy, speaking about and teaching other physical therapists how to perform the manual therapy technique. He works closely with each new therapist that joins NY SportsMed, ensuring that they perfect their myofascial release techniques when they join the company. Over the years, he and his staff have seen many patients experiencing back pain benefit from administration of this gentle, conservative treatment.
"Myofascial release therapy is not a new way to treat back pain, but it is often an effective one," explains Bongiorno. "Although I wish Ellen DeGeneres only the best, she should know that if she ever finds herself experiencing back pain while in Manhattan, the myofascial release therapy she seeks is only a phone call away at any of NY SportsMed's three locations."
-----------------------------------------------------------
NY SportsMed offers comprehensive physical therapy and sports medicine treatment for acute injuries and chronic pain, and treats many patients experiencing varying levels of back pain. The physical therapists at NY SportsMed utilize myofascial release therapy as part of comprehensive treatment plans, using the manual therapy technique often in conjunction with therapeutic exercise for improved results and more permanent change. To learn about the myofascial release technique, as well as the other non-surgical treatment options offered by NY SportsMed to treat acute and chronic back pain, contact NY SportsMed at 215-750-1110 or visit their website at http://nysportsmed.com.