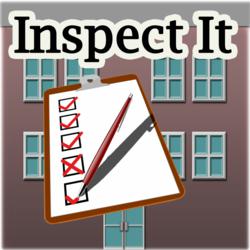 Beavercreek, OH (PRWEB) May 13, 2013
Inspect-It© is designed for fire and building inspectors or plant managers with periodic facility inspection requirements. Inspect-It© captures and stores a variety of information. Whether you choose the basic or advanced version, this complete product fulfills your needs.
Inspect-It© (basic version) grabs and holds many important details such as power sources, work areas, exits, hazardous materials, the location and storage of materials and equipment, the type and location of emergency resources, and the location and condition of fire suppression systems. The application is pre-populated with safety codes from the National Fire "Codes and Standards" and saves inspection information to a history file.
Inspect-It Plus© (advanced version) can be customized to local requirements, and includes a camera function. It is also capable of creating an electronic history, of readily accessing this previously collected information, and of emailing this history to others needing details. For example… should a fire occur later, the inspection information could be sent to the on-scene commander to help identify existing hazardous materials or obstacles in the facility.
The Inspect-It© App (Basic) enables the fire or building inspector to:

Utilize the "How to Use" function for training on the app features
Perform an inspection. To easily inspect a building, assess conditions and safety:
Click on the category to be inspected
Select the subcategories to inspect
Review the pre-populated inspection requirements in each subcategory
Enter inspection results and recommendations in each subcategory inspected
When complete, save the inspection results and recommendations in "History"
The Inspect-It Plus© App (Advanced) includes the following additional features to enable the fire or building inspector to:

Utilize the "Inspection" function "Options" feature to customize the inspection to conform to local requirements.
Add/edit/delete subcategory information as needed in each of the 12 inspection categories
Take and attach photos of the inspected area
Save and email the inspection history and photos to selected addressees