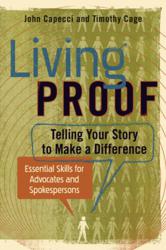 The Adversity to Advocacy Alliance focuses on the transformative power of narrative.
Minneapolis, MN (PRWEB) May 07, 2013
John Capecci and Tim Cage, award-winning authors of "Living Proof: Telling Your Story to Make a Difference" (Granville Circle Press), announced today that they have selected the Adversity 2 Advocacy (A2A) Alliance as their featured organization for May.
"Each month, we select a different nonprofit that is using personal stories to advocate for positive change and feature it during our personal appearances and on our website, livingproofadvocacy.com," says Capecci. "We're delighted to have chosen the A2A Alliance. Their focus on the transformative power of narrative resonates deeply with us and with the advocates with whom we work."
The A2A Alliance, an all-volunteer, nonprofit organization dedicated to promoting and fostering the power of turning personal challenges into service to others, was confounded by mental health advocates Jeff Bell and Patricia Lowery in 2011. A news anchor for KCBS Radio in San Francisco, Bell had struggled with Obsessive Compulsive Disorder (OCD) for a number of years and in 2007 he decided to share his story. Doing so changed his life—and the lives of many others.
"Knowing that my ongoing recovery was helping others gave me a strong sense of purpose and the motivation to stand up to my OCD," said Bell. With that in mind, he recruited a team of passionate advocacy experts to help develop the A2A Alliance as a practical resource for networking and supporting inspiring individuals who have used their adversity to help others.
"As we explain in "Living Proof," one of the five essentials of an effective advocacy story is that it is positively charged—always pointing to the positive change the storyteller hopes to inspire. That's the essence of what the A2A Alliance does: it helps people turn personal adversity into positive advocacy," says Cage.
Since its 2011 inception, the A2A Alliance has brought together dozens of the country's most powerful adversity-driven advocates, including Corey Reich, a 26-year-old with ALS who has raised more than $3 million for ALS research, and Jessica Melore, who after surviving a heart attack, organ failure, an amputation and cancer, has become a powerful public health advocate and popular motivational speaker.
ABOUT LIVING PROOF AND LIVING PROOF ADVOCACY TRAINING
"Living Proof: Telling Your Story to Make a Difference" ($21.95, softcover, 212 pages, 6"x9". ISBN 978-0-9838703-0-2 Granville Circle Press) by John Capecci and Tim Cage is a step-by-step guide on how to prepare and share life stories to advocate for causes or organizations. The book was selected as a "Best of 2012" by Kirkus Reviews. It also received a 2013 silver medal from Nautilus Book Awards and was a finalist in the USA Book Awards. It is available at independent booksellers and major online bookstores. Capecci and Cage are communication professionals with offices in Minneapolis and New York. To read a sample of "Living Proof" and to learn about Living Proof Advocacy Training, visit livingproofadvocacy.com.
ABOUT A2A ALLIANCE
The A2A Alliance is an all-volunteer organization committed to turning adversity into advocacy. Founder Jeff Bell is the author of "Rewind, Replay, Repeat" and "When in Doubt, Make Belief," and a leading authority on uncertainty and "greater good" motivation.