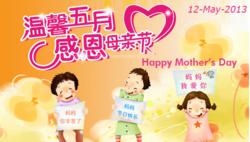 She was really happy, so really satisfied with the service to make this happen. Thank you very much!
Guangzhou, China (PRWEB) May 05, 2013
For many years ChinaFlowersShop.com have been delivering flowers to China, enabling people around the world to celebrate special occasions with their friends and family even when they're out of the country. With Mothers Day less than a fortnight away, a special collection of bouquets to suit all tastes and budgets has been created, which are available to send throughout mainland China today.
Flowers have always held a special place in Chinese hearts, so it's no surprise that sending flowers has become the most effective way to express love and affection - this is especially true for special events that are growing in popularity such as Mothers Day. With ChinaFlowersShop.com, and bouquets to express every sentiment - from appreciation, to respect and of course love - flower delivery to China couldn't be simpler.
ChinaFlowerShop.com is often the first choice for people wanting to send flowers to China because of the large selection of bouquets to choose from. Another reason the online delivery service is so popular is because of the convenient same-day delivery service they offer. However, a company spokesman believes the real key to success for the company has been the high quality of the bouquets and other gifts they provide.
Talking about the relationship ChinaFlowerShop.com has with China florists around the country he said, 'We make sure that only the freshest, most colorful and fragrant flowers are used, ensuring beautifully vibrant bouquets that warm the heart and deliver complete satisfaction. We're so confident that mothers across China will love their Mothers Day flowers that we even offer a replacement bouquet or refund if we don't deliver 100% satisfaction.'
About ChinaFlowerShop.com
ChinaFlowerShop.com offers an affordable and straightforward way for people around the world to send flowers and other gifts throughout China. Bouquets that have been specially arranged to complement particular festivals and holidays ensure that everyone can always celebrate with their family and friends in spirit if not in person.