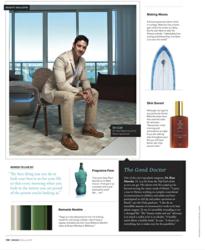 We hope this allows more women to take advantage of the technique and extends the awareness that a breast augmentation truly can be a beautiful thing.
Miami, Florida (PRWEB) May 06, 2013
This summer, The Maercks Institute is helping to make elite breast augmentation more affordable by adjusting its price closer to conventional offerings. The Cold-Subfascial Breast Augmentation is a unique procedure that was developed by Dr. Rian A. Maercks after gaining rich international experience in all facets of craniofacial and breast surgery. The artist turned plastic surgeon is an absolute perfectionist when is comes to aesthetics and form and this is evidenced in his results ( http://www.RianMaercksMD.com ).
"The augmented breast always bothered me. I had never seen one that approximated beautiful human form and I started examining why early in my career. The two things that jumped out at me, literally, are that plastic surgeons were designing breasts situated well outside of the 'real estate' of a beautiful breast position and that the shape of the implants we were using was all wrong."
Dr. Maercks and his views are considered contra-culture but are cherished by his patients and surgical followers. He has always protested the common belief that projection must come from the inherent features of the breast implant. Maercks argued that surgical design should dictate the form. Plastic surgeons nearly universally use high profile implants. Maercks, before the days of FDA approved anatomic shapes, always used low profile implants and often argued with industry that they should be made lower.
Another contention that Maercks had with breast augmentation was the belief that the pectoralis major muscle needed to play a role. "I realized one day that the only breast augmentations that looked good were ones that basically destroyed the entire origination of the pectoralis muscle and I thought- wait a minute if it looks better without the muscle, why include it?"
Dr. Maercks knew that subglandular or "above the muscle" implants simply didn't last long before eroding the breast tissue and became very interested in the subfascial plane. Subfascial breast augmentation was first described and published by the talented Dr. Ruth Graf of Curitiba, Brazil ( http://journals.lww.com/plasreconsurg/Abstract/2003/02000/Subfascial_Breast_Implant__A_New_Procedure.68.aspx ). Dr. Maercks followed Dr. Graf's work at international meetings and eventually visited her in Curitiba for a mini-fellowship.
"After working with the pectral fascia two things are obvious, it is very thin and it is very strong only if left intact. I wanted to ensure two things in my subfascial technique- that the fascia is raised completely intact and undamaged and that I could directly visualize and design a complete fascial coverage with an ability to give teardrop form to an implant."
The culmination of these thoughts and experiences led to what is now called the Cold-Subfascial Breast Augmentation. Interestingly this month Plastic and Reconstructive Surgery, the primary journal of the field, published a paper in complete agreement with Dr. Maercks tenants and technical considerations ( http://journals.lww.com/plasreconsurg/Abstract/2013/05000/Transaxillary_Totally_Subfascial_Breast.43.aspx ). Although originally Maercks used low profile round implants, today he is using exclusively anatomically shaped "gummy bear" implants with incredible success. Dr. Maercks believes that "the breasts should start near midline gradually so that a definite edge cannot be identified, they should be full yet gently disappear towards the clavicle, there should be no ledges shelves or ripples and they definitely should not change shape and jump around with arm movement."
Unfortunately the cost of a technically demanding operation with high cost implants and expendables is a financial barrier to care for many. The Maercks Institute is attempting to take down this barrier for a limited amount of lucky women this summer. By subsidizing $3250 off of the normal price, for a limited time the Cold-Subfascial Breast Augmentation is priced competitively with conventional dual-plane or submuscular techniques at similar quality practices.
"We hope this allows more women to take advantage of the technique and extends the awareness that a breast augmentation truly can be a beautiful thing."
Limited subsidized Cold-Subfascial Breast Augmentations are currently available by calling (305) 328-8256 and mentioning the subsidy. Complimentary private consultations are conducted by Dr. Maercks at The Maercks Institute, 4500 Biscayne Boulevard, Miami, Fl 33137. Email contact at Dr.Rian(at)RianMaercksMD(dot)com