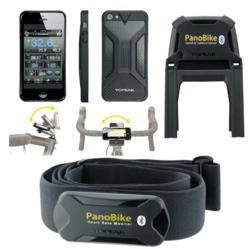 This whole technology boils down to where does it make sense to have the Smartphone along for the ride, like cycling, and where does it not, like running
Bozeman, MT (PRWEB) May 08, 2013
iPhone 5 bike computers with Bluetooth Smart embedded have brought cycling to a whole new level when it comes to real-time data communication says the Heart Rate Watch Company.
"The reason this works is because cyclists almost always have a Smartphone along for their training because they have jersey pockets to store them in, which makes them a "must-have" safety tool", says Rusty Squire, President of the Heart Rate Watch Company. He adds, "When it comes to watches the jury is still out for runners and gym goers because storage is not convenient".
ARMBANDS ARE NOT DESIRABLE
Runners and gym goers have unique needs and heart rate monitor watches have always been a handy solution because they fit neatly on a wrist virtually unnoticed. "An iPhone weighs 4 to 5 times what a watch weighs and armbands make them difficult to see while you are exercising", says Squire.
For gym goers that work out on treadmills, an elliptical or machines where they can have a magazine rack a Smartphone works great but runners have far fewer options according to Squire. "A serious runner isn't going to carry a phone or wear an armband because of chafing and comfort concerns", says Squire.
This makes it fairly unlikely that Bluetooth in GPS or fitness watches will become that widely adopted because without the burden of bringing the phone along you don't have data access in real-time to a network, which is the biggest point of having Bluetooth Smart according to Squire.
"Polar recently launched a Polar Stride Sensor Bluetooth that initially will only pair with phones", says Squire. He adds, "It does create some incentive to go with Bluetooth Smart in watches for runners but the question is how will it connect in real-time to a data network with no phone?".
Heart rate straps like the Polar H7 and Panobike Bluetooth Smart heart rate monitor make sense because they connect directly to iPhone for real-time data, as do the Panobike Bluetooth speed and cadence sensor says Squire. "This whole technology boils down to where it makes sense to have the Smartphone along for the ride, like cycling, and where does it not, like running", says Squire.