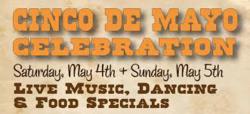 Mexican Fiesta Headquarters!
Atlanta, GA (PRWEB) May 04, 2013
Twisted Taco, a popular Atlanta Mexican restaurant that features authentic Mexican and Southwest Cuisine, is getting the fiesta started. The restaurant will have live music and dancing including drink and food specials May 4-5. "This will be one fun event with good times and delicious food," says Paul Gibbs (an Owner).
Twisted Taco is a cross between a Mexican Cantina and a sports bar. With over 30 tequilas, 50 beers and 15 signature margaritas there are plenty of spirits on hand to keep the Mexican Fiesta going.
Drink Specials:
$15.00 Mix and Match Buckets of Top Quality Mexican Beers
$3.50 Drafts: Including Modelo Especial and Pacifico
$5..99 Jose Quervo Margarittas
if you would like to learn more about Twisted Taco and the celebration: just follow the link: Mexican Fiesta Headquarters. Also if you are interested in franchising information: please visit their site at http://twistedtaco.com/why-twisted-taco/.
The release was submitted by Click Ready Marketing an Atlanta SEO Company.