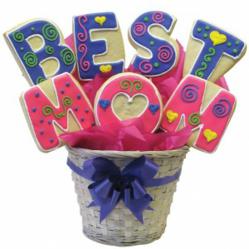 Islip, NY (PRWEB) May 06, 2013
Children around the world tend to scale local markets and online search engines for the best Mother's day gifts for the person that they value the most. Even though the love for a mother can never be portrayed through a mere gift, sons and daughters try their best to present their mothers with unique delicacies, just to show their mothers how much they love them. Generally, even with a lot of effort, children resort to novelty items and cards, failing to find things that are truly unique. With a reputation of revolutionizing gift giving, Clever Cookie is the best choice for children to get a wow out of Mom. With an exquisite range of delicate cookie arrangements, these gifts are sure to warm the heart of any mother. This year, the company has presented the Classic Italian and the Florentine Lace cookie platters as the Best Mother's Day gift for 2013.
Even though the inventory is studded with numerous Mother's Day gifts, these platters can surely be a truly great choice. The Classic Italian Cookie Platter is priced at a mere $22.99, and is loaded with a lot of different styles of cookies that really add life and color to the whole set up. All of this in addition to the renowned, delicious taste of Clever Cookie! On the other hand, the Florentine Lace Chocolate and Vanilla Platters are entirely different. With the looks of something out of a fairy tale, the brown, white and black goodness of the platter instantly waters the mouth, and each bite delivers a warmth deep down inside. This platter is priced at $25.99.
Because a mother that does so much for her beloved children, surely deserves the best Mother' Day gifts! Make your adored mother smile; surprise her with a Clever Cookie arrangement!
For details about the Mother's Day cookie arrangements, visit: http://www.clevercookie.com/product-category/holidays/mothers-day/
To participate in the Clever Cookie's Mother's Day Giveaway, visit: https://www.facebook.com/pages/Clever-Cookie/472426086112131?id=472426086112131&sk=app_471725046231199
About Clever Cookie:
Clever Cookie was founded in 1991 by sibling entrepreneurial spirits Lisa and David, who determined that cookies should be more than sweet treats—but creative confections that delight cookie-lovers of all ages! The company has been showcased numerous times on both print and electronic media and continues to gain popularity with an ever increasing clientele. To learn more, visit Clever Cookie's main site at http://www.clevercookie.com/
Contact:
Howard Saffeir
http://www.clevercookie.com/
info(at)clevercookie(dot)com
1-800-237-8443