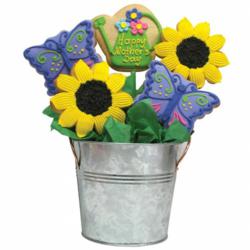 Islip, NY (PRWEB) May 04, 2013
The renowned Cookie experts, Clever Cookie launched an exquisite array of delicacies and treats for its customers, just for Mothers' Day. The product offering consists of some of the best cookie arrangements composed thus far by the company to date. Clever Cookie is making Mother's Day fun and delicious! Giving a unique gift this Mothers' Day becomes easy for Clever Cookie's customers. Now that the 12th of May is just a couple of days away, the company has already received tremendous response from its clients as the extravaganza continues.
The cookie arrangements that are receiving the most attention are the Giant Classic compositions, decorated with bright, lucid colors, radiant enough to brighten every mother's eyes. A mother is bound to be delighted upon seeing a giant cookie arrangement that says "BEST MOM" or "#1 MOM", in bright pink and sky blue colors, studded with miniature hearts, rainbows and what not. An "I Love You" arrangement is also receiving a huge amount of response. Apart from the brilliant arrangements that the company is offering, the price tags allocated are very affordable. This has been done to ensure that children from across the country can give their mothers a really pleasant surprise this Mothers' Day.
Apart from this cookie sale bonanza, Clever Cookie also has a cookie giveaway underway, specifically for Mothers' Day. Under this delight, the company will give away 10 Best Mothers' Day Gift Baskets to its lucky and valued customers. To enter into the giveaway, one simply has to 'like' the company's Facebook page and then enter their shipping details. Entries are accepted only till the 8th of May. For details: https://www.facebook.com/pages/Clever-Cookie/472426086112131?id=472426086112131&sk=app_471725046231199
For details about the Clever Cookie Mothers' Day bonanza, visit: http://www.clevercookie.com/product-category/holidays/mothers-day/
About Clever Cookie:
Clever Cookie was founded in 1991 by sibling entrepreneurial spirits Lisa and David, who determined that cookies should be more than sweet treats—but creative confections that delight cookie-lovers of all ages! The company has been showcased numerous times on both print and electronic media and continues to gain popularity with an ever increasing clientele. To learn more, visit Clever Cookie's main site at http://www.clevercookie.com/
Contact:
Howard Saffeir
http://www.clevercookie.com/
info(at)clevercookie(dot)com
1-800-237-8443