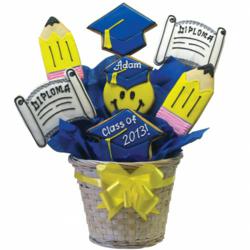 Islip, NY (PRWEB) May 05, 2013
Graduation Gifts are a special way to enhance the love that classmates tend to have for each other. On a day when graduates leave their institutions, with promises to meet again, these gifts are what keep their mutual love alive for the years to follow. Breaking the norms of giving cards or orthodox souvenirs at graduation ceremonies, Clever Cookie has presented an exquisite cookie arrangement that is sure to increase the graduation day excitement and emotion manifold.
The Graduation Cookie Planter is the latest addition to the Clever Cookie family and can easily be ordered through their website. Following a scholarly blue color scheme along with formal smileys wearing brilliant graduation hats, the arrangement is bound to make your loved classmates smile for a long time. Not only is this gift a delicious treat for the taste buds, the uniqueness of it is surely going to leave a mark on the memories of everyone that it's given. From kiddies of kindergarten to doctorate graduates, the arrangement is perfect for anyone that had lovely classmates at any institute. Furthermore, to encourage people to give better gifts, Clever Cookie is offering a large price cut on this specific cookie arrangement. From $44.99, the price has been lowered to a mere $36.99.
At such an amazing price, not only does Clever Cookie makes giving gifts cheaper, but a whole lot more fun too. Celebrate your graduation day differently with Clever Cookie, give your friends the best graduation gifts for 2013.
To learn more about the Graduation Cookie Planter, visit: http://www.clevercookie.com/shop/congratulations/graduation-cookie-planter/
The details can also be viewed at: https://www.facebook.com/pages/Clever-Cookie/472426086112131
About Clever Cookie:
Clever Cookie was founded in 1991 by sibling entrepreneurial spirits Lisa and David, who determined that cookies should be more than sweet treats—but creative confections that delight cookie-lovers of all ages! The company has been showcased numerous times on both print and electronic media and continues to gain popularity with an ever increasing clientele. To learn more, visit Clever Cookie's main site at http://www.clevercookie.com/
Contact:
Howard Saffeir
http://www.clevercookie.com/
info(at)clevercookie(dot)com
1-800-237-8443