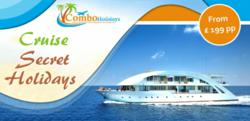 Combobeds.com: Cheap Holidays, Cheap Package Holidays, Luxury Package Holidays.
(PRWEB) May 22, 2013
A new travel site, Combobeds.com, has finally launched after months of hard work from the Combo Holidays and Combo Beds teams. The new website has higher speed and is better performing thanks to higher version technology. The new site is also much more 'user friendly', with more unique information. All products have been updated for easy navigation.
Mr. Ezz, the General Manager for Combobeds.com, said, "For the first time ever, we have brought together, in one place, travel information from all around the world to help travelers get information for before, during and after their travels."
The website caters to visitors worldwide, and offers holidays, cruise packages, and hotel prices to ideal destinations, including Abu Dhabi, Bangkok, Dubai, London, Egypt, Morocco, Maldives, and the Far East. Combobeds.com is continually updating its databases in order to offer the best cruise deals and international hotel deals.
The team has also updated the shopping cart feature so all services like tours, hotels, flight tickets, car pick-ups and other low-cost transfers, and other related travel arrangements can be easily handled at check out time. Moreover, all contact information provided by customers on check-out is protected by SSL, an advanced security feature.
As the work is still ongoing, Combobeds.com requests that any difficulties or slowness in site usage are reported. The team appreciates any comments left from customers in hopes of improving their service.
To find and book the best travel deals and flights, go to http://www.combobeds.com