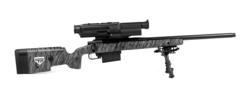 Consistent 500 yard+ shots on the hunt.
Austin, TX (PRWEB) May 06, 2013
Precision Guided Firearms have been the talk of the tech, outdoors, and firearms media since their launch in January 2013. While many have discussed the system, very few have had the privilege to actually be able to shoot it, and even fewer have been able to experience it off the range and in action in a real life long range hunting scenario. John B. Snow, the shooting editor from Outdoor Life magazine, took the new TrackingPoint system out in Texas to hunt for nilgai to see how the precision long range hunting rifle really performed while in action. Along with other Outdoor Life staff members and a team of TrackingPoint firearm's experts, they took long distance shots and harvested game.
The TrackingPoint system matches the rifle, scope, and ammo with sophisticated ballistic software that takes the guesswork out of elevation corrections for long shots, and calculates a host of long range hunting variables. The hunting model is the XS3 in .300 Winchester Magnum, which is designed to work out to 850 yards. The XS3 has the most typical hunting profile of the three Precision Guided Firearms TrackingPoint offers, as it is built on a McMillian A5 stock. The XS1 and XS2 tactical models are both built on the Accuracy International Chassis.
On the Yturria ranch in south Texas, the team went out with LG Outfitting and the rifle was put to use. The Outdoor Life editor shot 190 grain Barnes LRX rounds and harvested a nilgai at 486 yards (the longest shot on game John had ever taken), proving the systems viability to the editorial team as a long range hunting tool. Read the full article on the TrackingPoint long range hunting rifle.