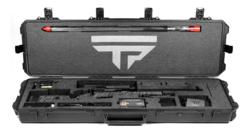 There are shooters with disabilities for whom this system can be a true blessing.
(PRWEB) May 07, 2013
The online discussion of Outdoor Life's hunt with TrackingPoint Precision Guided Firearms took an interesting turn from the previous tech-industry discussion of linux capabilities and military applications. The publication's overview of the hunt and ensuing online conversation brought up a new use case for precision guided firearms: mitigating the effects of aging and mitigating the impacts those wounded or disabled who still enjoy hunting as an American past-time. now these shooters can have a long range hunting rifle system that enables them to account for human error and still take ethical shots.
Comments included:
"I have read numerous of the negative non accepting comments from the obviously, young, healthy sportsmen readers. I would like to remind them that the clock of Father Time is ticking and though they may not think so it will be rather quickly that they will be less than youthful, healthy energetic individuals. Being 60 and having had open heart surgery for a defective Mitral Valve. I know better. While I still walk and hunt and prefer my usual spot and stalk techniques. The medications I need to survive limit my ability to withstand extreme cold.
Additionally, arthritis from running for 22 years in the Marine Corps is catching up too. My 83 year old father, cannot walk due to having both his knee caps shot off in Korea, has a Class Q permit and is looking for a scope of this type to insure that he will continue to get to make ethical shots."
and
"There are shooters with disabilities for whom this system can be a true blessing. Think of someone with Parkinson's or some other affliction where they have difficulty controlling spasms or tremors. This system allows them to hunt again."
TrackingPoint's "ShotMade" blog also posted an article on the long distance hunt, inspiring a lively social media discussion.
Described simply, TrackingPoint Precision Guided Firearms combined fighter jet technology, a Linux powered CPU, heads up display, guided trigger and conventional bolt action rifle into one firing system. Regardless of if you're a first time shooter, or a weathered big game hunter, this technology greatly increases first shot success probability, making it the best long range hunting rifle on the market.