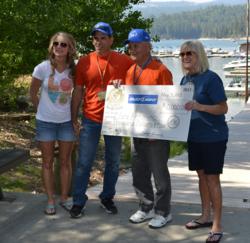 We've got nearly 1000 anglers and a lot more tagged fish turned in this year. We're definitely up this year
Bass Lake, CA (PRWEB) May 04, 2013
Day one of the annual Bass Lake Fishing Derby is in the books, and one angler will be going home $10,000 richer.
Pete Antonino, 83 of Fresno, a long time participant in the yearly tournament, caught one of two tagged fish worth $10,000 near Crane Valley Dam. The fortunate angler didn't want to give away all of his secrets, but did promise to return for day two of the tournament to try to catch the other big money fish.
"He was definitely excited when he found out he had the big fish," said Michelle Miller with Miller's Landing Resort, where Antonino turned the fish in.
Miller said Antonino has been fishing the derby since at least 1998 and that he said he "Cried his eyes out" when he found out he had the $10,000 fish.
Leslie Cox, owner of The Forks Resort and President of the Bass Lake Chamber of Commerce said this year's turn out for the tournament is definitely up from previous years.
"We've got nearly 1000 anglers and a lot more tagged fish turned in this year. We're definitely up this year," she said.
The tournament is the first big event of the season, and also the first one since PG&E completed a multi-year seismic refit of Crane Valley Dam that required lower lake levels the past four years. Now that the project is done, the Bass Lake Chamber of Commerce embarked on a campaign to let everyone know that "Bass Lake is full of it: fish, water and family fun."
The last time the highest prize fish was caught was 2007, and 1992 before that.
The fishing tournament continues Sunday, with another $10,000 dollar fish still at large, as well as another worth $5,000 and hundreds of others worth anywhere from $20 to $100.
For more information on the tournament or other events coming up at Bass Lake this summer, visit http://www.BassLakeChamber.com.
-END-