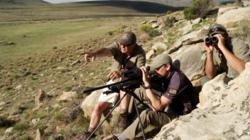 Long range hunting hits from 1100 yards plus in South Africa.
Austin, TX (PRWEB) May 08, 2013
The TrackingPoint quality analysis team took their innovative XactSystem to South Africa to truly test the capabilities of their various long range hunting rifle systems on the hunt. They hunted wildebeest, springbok, kudu, gazelle and many more types of game, and came back with a plethora of trophies and consistent affirmation of their products capabilities. The longest range hit came from 1103 yards with the .338 Lapua Magnum XS-1 Hunting rifle on a blue wildebeest, an exceptionally long range harvest. The quality analysis team was accompanied by videographers from TrackingPoint's home of Austin, TX, who captured the whole long distance safari hunting experience and put together the video Extreme Distance hunting, which has inspired a constant Youtube debate since its upload.
Recently, publication Outdoor Life confirmed TrackingPoint's viability as the premier long range hunting rifle when they went on the hunt in Texas for Nilgai with the TrackingPoint XS3 Precision Guided Firearm. Their team hunted multiple types of game at long distances with unique variables, and were one of the first in outdoor media who got the privilege to shoot the high-tech system on the hunt. Outdoor Life provides a comprehensive overview of Precision Guided Firearms technology in the article.
All of the animals harvested during this quality analysis were harvested in accordance with hunting ethics and South African law. The hunting party ate the meat and preserved the trophy from each animal. Extra meat was donated or sold to local villages and restaurants. Nothing was wasted. The ethical and humane harvesting of game is very important to TrackingPoint and at no time did the hunting party ever wound and fail to recover an animal. These species thrive in this environment solely because of hunters, for the purpose of hunting.