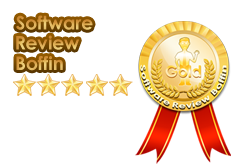 As most of its processes are automated, the software is especially user-friendly and easy to use.
New York City, NY (PRWEB) May 14, 2013
Boffin, a software-reviewing website, recently published a round of reviews of DVD burning software. The Boffin reviewers scrutinized over ten different media burning software products in order to develop an impartial top software list for 2013. Joboshare DVD Creator, although very similar in its efficiency and wide variety of tools when compared to the No. 1 software, was ultimately awarded the 2nd place and the four-star Boffin prize. According to the software's review, Joboshare DVD Creator is particularly fast and efficient in burning most types of audio and video files into digital discs. Another quality the Boffin reviewers seemed impressed by was its ease of use, a characteristic the reviewers extensively praised. They emphasized that it was only a matter of minutes for the reviewers to acquaint themselves with the software's features, and that the entire burning process was completed smoothly and efficiently.
As most of its processes are automated, the software is especially user-friendly and easy to use. This results in impeccable, professional-looking DVDs, the reviewers underlined. In the review, it was also mentioned that despite being an advanced media burning software, it manages to preserve its accessibility; a defining quality that pushed the software ahead of competitors into the 2nd place position. The reviewers also commented exhaustively on the support the user receives once they have the software installed on their computers. The Boffin reviewers noted that the software offers clear, step-by-step instructions to first-timers to ensure they completely understand its interface before starting to burn media on discs.
The Boffin reviewers unanimously concluded that Joboshare DVD Creator is well placed at the 2nd position on their list, but that all Boffin reviews are subject to reassessement once new releases or software upgrades are published. They also explained that the final rankings were defined by sometimes minuscule differences between the software features tested. Lastly, it was mentioned that the software reviewed is frequently reevaluated in order for the Boffin reviews to remain relevant and up to date.
Software Review Boffin reviews the latest technological products in demand on the market right now. They provide expert, honest and straightforward reviews so customers can objectively measure if a product, especially software is well worth it before making their purchase.
To learn more about Software Review Boffin, visit http://www.softwarereviewboffin.com.