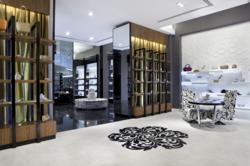 We create masterpieces and masterpieces create an impression
Dubai, United Arab Emirates (PRWEB) May 06, 2013
12 months on and the luxurious NICOLI boutique - a hub of irresistible handcrafted, limited edition crystal embellished shoes and handbags, is elated to celebrate their first birthday in Mirdif City Centre, UAE.
The NICOLI Mirdif store transports every shoe and handbag aficionado to a luxurious heaven where elegance and glamour meet under one roof. Just like the seven other NICOLI boutiques throughout the GCC, NICOLI's Mirdif boutique embodies Italian heritage, Arabian elegance and true Paris spirit, intertwined with contemporary style. The splendid and luxurious NICOLI boutique provides a shopping experience unparalleled with any other, and is proud to introduced a new concept in high-end shoe and handbag shopping, in the short span of just one year.
The breathtaking NICOLI boutique in Mirdif City Center, as with all other NICOLI stores, sets the stage to the enchanting and sensual displays of exclusive crystal embellished shoes and handbags. Adorned with awe-inspiring ambiance, spectacular marble walkways and strategically placed mirrored walls, the boutique reflects the blissful parade of sparkling handcrafted handbags and exquisite diamante shoes, shimmering under strategically placed spotlights, dazzling onlookers.
Steeped in glamor and famed for fashionable yet timeless products, NICOLI continues to explore new grounds to reach its clientele even more conveniently. With the recent opening of a new NICOLI flagship boutique at Al-Ain Mall, NICOLI stores have now reached the total number of seven throughout the GCC. In addition, the brand has recently launched their online ecommerce boutique nicolishoes.com and now, since no birthday comes without at least a couple of fabulous surprises, NICOLI is in the midst of creating a 1st Birthday Facebook competition to give away 12 fabulous crystal embellished handbags and/or pairs of shoes - one product for each month that the shop has been opened. This superb competition will be available to customers worldwide and anyone can enter it by simply liking the NICOLI page, entering their details and selecting their favorite NICOLI products on Facebook. It's that simple! (The competition will be launched within the next coming weeks, so watch this space).
Since its creation in 2004 by founder Khurram Rafique, NICOLI has become a truly iconic brand, offering a wide range of crystal embellished shoe and handbag styles, from wedges to ballerina shoes, wedding shoes to flats and sandals, exquisite Swarovski embellished high heels to glamorous hand crafted evening handbags, purses and clutches. NICOLI is firm to continue inspiring and enchanting the customers, with their unique, hand crafted, high-quality collection of contemporary and innovative shoe styles and handbag designs!
In its purest form the NICOLI Brand is an expression of artists who perpetuate its artistic tradition through elegant designs, international styles, and cultural heritage. NICOLI speaks the language of Hollywood Glamour and Arabian Elegance. It defines the disappearance of borders and the integration of culture. It is Avant-garde, a mover and a shaker. Sophisticated yet whimsical, NICOLI promises you exclusivity, quality and style.