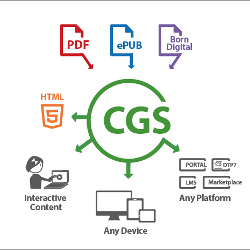 The CGS doesn't require a proprietary system or any programming skills. In fact, one year's worth of content can be converted into interactive, tablet-ready content within a matter of days
Tel Aviv, Israel (PRWEB) May 27, 2013
According to Moshe Egert, CEO at Time to Know, the CGS offers global publishers a cost-effective way of transforming existing print assets into smart interactive content, repurposing digital assets and producing born-digital content.
"The CGS represents a savvy investment in educational publishers' digital future. As a one-stop solution, it provides seamless management of the entire digital production cycle, accelerating time to market and ROI."
Egert points out that, "The CGS doesn't require a proprietary system or any programming skills. In fact, one year's worth of content can be converted into interactive, tablet-ready content within a matter of days."
The CGS also represents a revolutionary solution for content creators, enabling them to transform ideas and assets into engaging K-12 learning content - from the creation of interactive, born digital educational content to instant conversion of print content into HTML5.
Its smart, intuitive platform is embedded with research-based pedagogy, scaffolding and personalization features - making it simpler to create high-quality interactive content.
Lynda Martin, Executive Content Developer, McGraw-Hill/Time to Know School Education Group, McGraw-Hill Education, praises the intuitive way the CGS creates highly interactive, data-driven instruction.
"The ability to preview and interact with the content with one click is by far one of the CGS's best features, second only to the ability to import existing static content and transform it into the engaging, interactive experience." In short, she says, "It's a content editor's dream."
About Time To Know
Time To Know was established in 2006 with the aim of leading the digital education revolution in classrooms around the world and ensuring that students are truly equipped with the skills required in the 21st century.
The company promotes learning and teaching solutions designed to empower teachers and students in the digital age.
Today, over 200 schools around the world are currently working with Time To Know. The company partners with leading publishers in the global K–12 marketplace, such as McGraw-Hill Education in the US and Doosan Dong-A in South Korea, to provide local core curriculum.