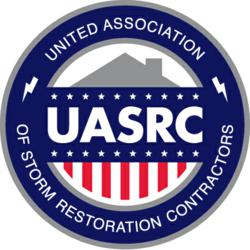 Dallas, TX (PRWEB) May 06, 2013
The United Association of Storm Restoration Contractors (UASRC) founding member, Guardian Exteriors recently came to the assistance of Marina Hampton after she was taken for $18,000 by another roofing company. In what is unfortunately becoming a common occurrence, Mr. and Mrs. Hampton were the victims of an apparent roofing scam. Descendants of Dallas's first resident, Mr. and Mrs. Hampton, were taken advantage of by an unscrupulous roofing contractor preying on the elderly after the hail storm in Dallas last year. A roofer contracted with Mr. and Mrs. Hampton to do all of the work detailed by their insurance company, but required a hefty deposit to begin work. The Hampton's provided the company the first insurance check, totaling $18,095.55, expecting the repairs to the property to begin as soon as possible. But this was not to be the case. After putting the Hampton's off for several months, citing market conditions and materials availability, the roofer disappeared leaving Mr. and Mrs. Hampton helpless. They have waited for nearly a year to put their property back together. To make matters worse, Mr. Hampton is currently receiving treatment for cancer and has to deal with the heartache of his family being lied to and strung along by a fly-by-night contractor taking advantage of storm victims.
When a representative at Guardian Exteriors, Jack Brabham, first heard this story he knew immediately what to do. Guardian Exteriors, one of the founding members of the United Association of Storm Restoration Contractors (UASRC), firmly believes in charity and giving back to the community. Stories like this are exactly why Guardian decided to join the UASRC in their mission to not only assist in community outreach projects like this but to hold its members to a higher standard than those who would tear the industry down in the pursuit of greed. The UASRC provides a platform for companies like Guardian Exteriors to stand apart from in a market where there is no current licensing requirement, or governing entity for that matter, policing "fly by night" contractors. Every year as storms cross our state, people with little to no experience put a magnet on their truck and pretend to be roofers. While not all of these companies have bad intentions, most of them are only in pursuit of money and have no ability to actually help the situation. Roofing is not an easy trade. On the contrary, waterproofing takes years to master and is one of the most dangerous, and important, improvements made to a property.
Guardian Exteriors donated all the labor needed to complete the repair, but wasn't alone in wanting to help make things right. This project would not have been possible without the generous contributions of materials made by Atlas Roofing Products and Bradco Supply. The project is scheduled for Wednesday, May 8, 2013.
Situations like this one are easily avoidable by checking into the company before doing business with them. Things like references and BBB membership are good but longevity is the most important thing. Look for a company that is a member of an organization that polices its members. Organizations like:

UASRC (United Association of Storm Restoration Contractors)
RCAT (Roofing Contractors Association of Texas)
NTRCA (North Texas Roofing Contractors Association)
The importance of being a member of one or all of the previous organizations is paramount to the viability of the company due to strict criteria a company must meet and maintain to be a member. All of three of the trade organizations listed require insurance and provide customers with support in the even that one its members fail to perform as promised.
The UASRC mission is to promote the highest ethical standards in the catastrophe restoration industry. The UASRC adheres to a code of professional conduct, educate property owners about the insurance restoration process and give back to the community through outreach and charitable programs.
The UASRC was formed in part to give property owners the information they need to make an informed decision in regards to their storm related repairs. The UASRC Facebook page and website at http://www.uasrc.org are both sources of information related to the storm restoration industry. The UASRC also serves as a resource for property owners and contractors that have fallen victim to disreputable contractors, and insurance claim related issues.