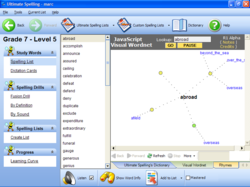 In a nutshell, Ultimate Spelling has proven to be a very intuitive and useful program that can help people from all age brackets with their spelling.
New York City, NY (PRWEB) May 11, 2013
Although the perception is that Ultimate Spelling is only for students off to the annual spelling bee, Top Ten Reviews, a software review website, has found that the software can in fact be also very helpful for adults. Software company eReflect is pleased to add this confirmation of their design theory to the growing list of positive reviews for this popular product.
Listing the pros and cons of the software, the review implied that adults in fact might probably have more fun with it than very young learners. This bias does not necessarily lie in the insufficiency of the program's features geared towards young children, but rather the lack of interactive features that can keep the attention of easily-distracted children during the more exercise-based portions of the software. However, whatever lack there might be in interactive and playful features in the "study" portions of the program, it does make up for it by including a "play" portion with fun games and activities.
On the other hand, this same lack of emphasis on child-friendly activities is also precisely the reason why the review group has cited Ultimate Spelling as a very useful tool for adults. The program has an impressive 160,000 listed words in it, with room for much more, supporting any user's goals.
The added words can be put in by the user through the fully customizable Create List option. This feature allows the user to expand their exercise activities and programs, according to their specifications.
Essentially, the drills allow for a lot of room for creativity on the part of the user, even enabling them to add in images for the words, thereby creating a flash card. While this may seem elementary, this should come in handy especially when it comes to guiding the user with the context of the word.
In a nutshell, Ultimate Spelling has proven to be a very intuitive and useful program that can help people from all age brackets with their spelling. Not only does it help improve a user's spelling abilities, it also increases their vocabulary through the definitions that accompany the words in the exercises.
According to the review, eReflect did cover all possible angles in developing this system and has delivered a comprehensive learning software package. As a result, Ultimate Spelling has been declared, without a doubt, to be the best spelling tutorial program out there.
For more information about how spelling software can improve spelling performance for you and your family, please visit the official website at http://www.ultimatespelling.com.
About Ultimate Spelling™
Ultimate Spelling provides a modern and easy to use spelling software that has been designed with one goal in mind – making children want to learn.
It is a fast and easy way to master even the most complicated spelling, without the need to write long lists or complete boring tests.
In fact, Ultimate Spelling provides more than just spelling help. It is a complete educational resource that boosts all level of a child's literacy.
Containing a personal computer tutor, Ultimate Spelling is the most realistic step-by-step guide to flawless spelling ability.