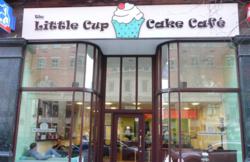 "Persevering through a recession is something your potential clients will remember." Ciaran Connolly, Co-Founder of ProfileTree
Belfast, Northern Ireland (PRWEB) May 09, 2013
One of Belfast's Cafes has decided to jump on the bubble tea wagon in a bid to offer its customers something different and exotic! Introducing a Bubble Tea Counter at The Little Cupcake Café in Belfast has proven to be an exciting time for both the owners and customers.
Bubble Tea has become the latest craze to sweep the nation and the world originating from Taiwan, Bubble Tea or 'boba' tea as it is commonly known is a creamy iced tea with small, chewy pearls of tapioca dropped into the bottom of the cup.
The UK saw the opening of its first Bubble Tea Café in Soho in April of last year. Bubblelogy has since opened two more concessions in Knightsbridge and Notting Hill and sells up to 23 flavors of its famous 'Bubble Tea'.
The owner of The Little Cupcake Café spoke to ProfileTree about the hard times for business momentarily "And now with the recession still hitting us hard we're now putting a few thousand pounds into re-launching the Cafe with a new dedicated Bubble Tea Counter, serving Bubble Tea, iced tea and iced coffee which seems to have taken off in America, London and Dublin. The goal is to stay open ultimately and to do this you have to be willing to try something new and adapt."
Ciaran Connolly, Co-Founder of ProfileTree Said "Persevering through a recession is something your potential clients will remember, every person wants to see a story of staying strong and surviving hard times not a business that seems to only thrive when the economy thrives. It is the human element of your story that counts."
About ProfileTree: ProfileTree is a free listing service where self employed and small business owner can create an online marketing profile. Profile Tree's main goal is to help small business owners reach new customers every day with the most innovative online marketing tips and techniques.
The website also enjoys sharing motivation photos for the self employed, helping with focus and drive. From professional wedding photographers to anyone offering a service - it can be listed online today.