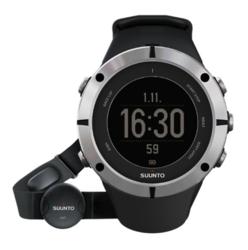 We've got a couple Ambit 2 Sapphire's left and then we are out until July according to Suunto Representatives we talked with May 3rd
Bozeman, MT (PRWEB) May 06, 2013
Suunto Ambit 2 Sapphire is one hot commodity and most folks won't see one until July according to Heart Rate Watch Company.
"We've got a couple Ambit 2 Sapphire's left and then we are out until July according to Suunto Representatives we talked with May 3rd," says Rusty Squire, President of the Heart Rate Watch Company. He adds, "The reason the Sapphire GPS watch model is so popular is its durability, memory, apps and construction quality."
THE THREE MODELS
The Suunto Ambit 2S only has 8 hours battery life in GPS mode and, while it contains all the sports features for triathlon, it has not been as popular in initial sales according to Squire. "Everybody wants the Suunto Ambit Sapphire right now but the Suunto Ambit 2 has all the same features and, from our experience with the Suunto Ambit 1 this model is very durable."
"It appears to us that there are going to be stock gaps of a month, or two, on these models, perhaps not the 2S, but the Sapphire definitely and possibly with the Suunto Ambit 2," says Squire.
The swim features for laps, strokes and distance combined with more memory and apps have made the new Suunto Ambit 2 quite popular at introduction.
SUUNTO AMBIT 1 OWNERS MIFFED
Quite a few Suunto Ambit 1 owners are miffed because in just 12 months they feel like their watches have been made somewhat obsolete and will not be supported. "There are bad feelings but people have to realize that the hardware and feature changes could not be corrected by firmware, most of these improvements were hardware and that requires items that are added at the initial build," says Squire.