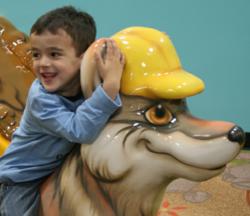 The play area makes a statement about who we are in Northern Nevada: We welcome children.
Reno, NV (PRWEB) May 08, 2013
The Reno-Tahoe International Airport is hosting the 85th Annual Conference for the American Association of Airport Executives (AAAE) on May 19 and when participants arrive, they will be greeted by a $27 makeover, including a Tahoe-inspired ski lodge appearance and a PLAYTIME-designed toddler play area.
Sponsored by the Nevada Mining Association, the new soft playground has garnered significant media attention and earned rave reviews from the sponsor and parents alike.
"We want to make the all-important first and last impression on people coming to and going from our community," says Brian Kulpin, VP of Marketing. "The play area makes a statement about who we are in Northern Nevada: We welcome children."
Kulpin says that the new airport play area is centrally located so that families traveling through either of the airport's two terminals can stop and let their children play before heading to their gates.
"We were talking with the Nevada Mining Association about having a presence at the airport," explains Kulpin. "They were trying to figure out how to educate travelers about the rich tradition of mining in Nevada. We're the Silver State! When the children's area was available, the mining association loved it. They wanted something interactive and fun and this play area is perfect. It helps highlight how much they do for families in Nevada."
All of the custom-themed soft play elements, surrounding benches, shoe cubbies and carpeting were provided by PLAYTIME, a commercial playground company and the global provider of unique, interactive, soft play areas and playground equipment for indoor, outdoor and water play.
"PLAYTIME has helped us take care of an important segment of our customers and they did it so well," says Kulpin. "PLAYTIME was terrific to work with, responsive, creative, they met every deadline, and they created a terrific play area. We're thrilled."
Kulpin believes the facility is ready to show off its upgrades at the AAAE Conference as proof of its commitment to the passenger experience.
"With people coming in from around the world, we want to prove that we take care of all of our passengers," he says. "Everyone will see that we have the amenities to make our mission real. We have the facilities to back it up."