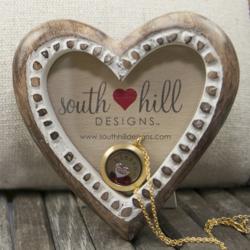 I've rarely seen the application of technology deliver such immediate results in growing distributors, customers and sales. - Mike Sheffield, founder and CEO of the Sheffield Group
Scottsdale, AZ (PRWEB) May 07, 2013
Jewelry Company South Hill Designs has been independently ranked number one "MLM Top Performer" after implementing new technologies to drive growth. The company is also ranked number one in the equivalent rankings for home party companies.
Two independent websites that track public interest in MLM and party plan companies have ranked South Hill Designs in first place over the past six months, with an increase during this period of more than 1,000%.
CEO Brian Palmer attributes the company's rapid growth to its commitment to innovation and the strategic use of technology. Palmer said: "COO Joe Ochoa and I both come from technology backgrounds and we are using this experience to streamline every aspect of South Hill's operations."
A key focus has been the use of advanced software to manage the supply chain, ensuring that customers are not troubled by major product shortages or waiting times.
The same philosophy has been applied to outward-facing functions. For example, the company recently launched an online tool called "Start a Social". This enables independent distributors (known as "Artists") to quickly set up each new South Hill Designs social event. All the transactions for the social are logged online, which saves time managing inventory and bookkeeping. A significant feature is the ability of the hostess to access the system with her own password and calculate all the free gifts and rewards she has earned.
"Within days of launching 'Start a Social', our Artists have reported how flawlessly the system works," Ochoa said. "They find that hostesses are motivated by the ease of seeing their rewards the moment the social is over."
Another innovation from South Hill Designs is the introduction of weekly commission payments. In the party-plan industry at large, it can take a month or more to pay distributors following a home event. By leveraging their innovative technology platform, South Hill Designs can instantly load money onto the Artist's own company-branded debit card.
Director of Sales, Amy Faircloth said: "We want our Artists to experience a direct connection between their efforts and their rewards. So rapid payment of commissions is a must. With weekly payments we can show our Artists how much we appreciate their commitment. "
The company's innovations have caught the attention of Mike Sheffield, founder and CEO of the Sheffield Group, which is recognized as the leading consulting organization in the direct sales industry. "In this business, you want your distributors to spend as much time as possible face-to-face with their customers — and as little time as necessary doing paperwork or struggling with inventory. Technology can achieve that, but only with robust and easy-to-use systems. South Hill Designs is a model case study. I've rarely seen the application of technology deliver such immediate results in growing distributors, customers and sales."
Sheffield added: "Other players in the industry should look at South Hill Designs and learn."