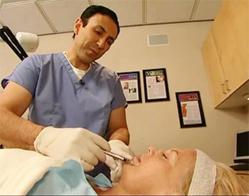 Los Angeles, California (PRWEB) May 06, 2013
According to an April 24, 2013 Fox News article entitled "Cosmetic Fillers a 'crisis waiting to happen', UK Review Finds" (go to goo.gl/D17na), the use of cosmetic fillers has been increasing as more people seek cosmetic procedures to restore youthfulness and enhance their physical appearance. However, regulations are not stringent enough and no law currently prevents untrained, unlicensed practitioners in the U.K. from providing dermal fillers.
"It really is amazing to think that someone with no training at all could inject dermal fillers," says Dr. Simon Ourian, Medical Director of Epione Beverly Hills. "In California, where I practice, the issue is not so much the need for greater regulation but the lack of enforcement."
In the report, the medical director of the National Health Service says that he believes cosmetic procedures should be performed exclusively by licensed practitioners, but numerous dealers are providing the services without the requisite training; putting their clients' wellbeing at risk. With unlicensed practitioners, there is a heightened chance that inferior products or methods are being used.
In the U.S., according to the report, the FDA is much more stringent about which dermal fillers it has approved for use. As a result, there are only fourteen dermal fillers in this market, including Juvéderm, Restylane, and Radiesse. This is quite different from Britain, where the amount of these products ranges somewhere between 140 and 190.
"Some may complain the FDA's approval process is too slow and cumbersome, but this seems eminently more sensible than having no approval process at all as seems to be the case for dermal fillers in the U.K." says Dr. Ourian.
Dr. Ourian has been a pioneer in laser technology and non-invasive aesthetic procedures including Restylane, Juvéderm, Radiesse and Sculptra. These treatments are used for the correction or reversal of a variety of conditions such as acne, acne scars, skin discoloration, wrinkles, stretch marks, varicose veins, cellulite, and others. More information about dermal filler safety can be found on Epione's website.