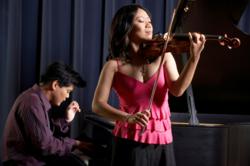 Programs range from captivating sound poetry to recent works for string quartet to three dimensional full dome film.
Keokea (PRWEB) May 07, 2013
Ebb & Flow Arts presents North South East West Festival 2013, May 17 - November 23. E&FA's NSEW Festival 2013 provides a statewide audience with challenging and riveting work as performed by highly qualified professional performers.
"Programs range from captivating sound poetry to recent works for string quartet to three dimensional full dome film", says Robert Pollock, Executive Director. "We are excited to bring a national and international array of artists to Hawai'i," he added.
Performers include Duo Diorama (Chicago), members of San Francisco Symphony, Jaap Blonk (the Netherlands), as well as several Maui and Hawaii-based musicians and artists.
E&FA produces an entirely new "Music of the Spheres" full dome film show for Imiloa Planetarium, including spectacular, three dimensional digital projection.
The festival presents twenty-eight works by twenty-two composers, including five World premieres and nine Hawai'i premieres.
NORTH SOUTH EAST WEST FESTIVAL 2013 SCHEDULE
ALL EVENTS FREE ADMISSION
The festival begins on Maui, with a two-day Mini International Festival:

Friday, May 17, 2013, 7:30, Iao Congregational Church, 2371 W. Vineyard St., Wailuku, featuring sound poet, JAAP BLONK (the Netherlands), works by Kurt Schwitters, John Cage, Jaap Blonk, multi media (http://www.jaapblonk.com);
and Saturday, May 18, 7:30pm, Makawao Union Church, 1445 Baldwin Ave. featuring WORKS FOR FLUTE, VIOLA, and HARP by Claude Debussy, Sergei Prokofiev, Gabriel Faure, Igor Stravinsky, Malcolm Arnold, and Edgar Varese, with Tatyana Shapiro Leiste, harp (http://www.harpisttatyana.com) (Russia), Colin Belisle, viola, Susan McGinn, flute (Honolulu), also works by Alexander Scriabin featuring Beatrice Scorby, pianist.
The festival resumes on Maui in July, and August:
Saturday,  July 13, 7:30, Keawala'i Congregational Church, 5300 Makena Rd., Makena - DUO DIORAMA, Minghuan Xu, violin, Winston Choi, piano (http://www.duodiorama.com). Works by Igor Stravinsky, John Corigliano, Robert Pollock, Huang Ruo, and Mischa Zupko.
Saturday, August 10, 7:30, Seabury Hall Performing Arts Studio, Makawao - CHAMBER MUSIC FROM SAN FRANCISCO, Sarn Oliver, Mariko Smiley, violins, David Kim, viola, Sebastian Gingras 'cello, works by George Walker, Sarn Oliver (http://www.sarnoliver.net), Dmitri Shostakovich, and Igor Stravinsky.
Festival events continue on the Big island, and then conclude in Honolulu:
Saturday, August 31, 7:30pm, Imiloa Planetarium, 600 Imiloa Place, Hilo, Hawai'i (http://www.imiloahawaii.org), MUSIC OF THE SPHERES, a new, 3D, full dome film program of original electronic music and videos. Works by Charles Wuorinen, John Melby, John Adams, Peter Swanzy, Robert Wehrman, Jon Magnussen, Michael Takemoto, Martha Woodbury, and Lee Michael Walczuk.
Saturday, November 23, 7:30, Studio 909, 909 Kapiolani Blvd., Honolulu, HAWAI'I COMPOSERS CONCERT, Ebb & Flow Ensemble - Ignace Jang, Helen Liu violins, Ethan Pernela, viola, Joanna Morrison-Pernela, 'cello, Jonathan Korth, piano. Works by Neil McKay, Pelarin Bacos, Thomas Osborne, others.
For further information, write E&FA, Box 1081, Kula HI 96790; reach the website: http://www.ebbandflowarts.org, and call: (808) 876 1854.
These events are part of E&FA's annual, multi day, multi site, international NORTH SOUTH EAST WEST FESTIVAL 2013. It is produced with support from the Aaron Copland Fund for Music, AHS Foundation, Makana Aloha Foundation, Hawai'i Tourism Authority/Maui County OED/CPEP, John R. Halligan Charitable Fund, Maui Arts & Cultural Center, Hawai'i State Foundation on Culture & Arts, Roger Shapiro Fund for New Music, Edward T. Cone Foundation, BMI Foundation, and private contributions. Web site service provided by Maui Web Designs. 
Ebb & Flow Arts, Inc. (E&FA) is a non-profit presenter of modern music and multi media events. It is the only such presenter in Hawai'i, and was founded in 1999, by composer/pianist Robert Pollock. It aims to build bridges between the arts and connect artistic expressions and cultures. E&FA creates a global sound board and mirror for music and art in Hawai'i. E&FA also teach es Maui's children how to read and write music with "Scaling Haleakala," an award-winning curriculum.