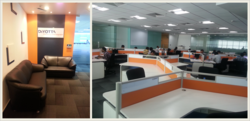 Diyotta is gaining momentum and our expansion is just one such indicator of this. Our state of the art development center in newly-built Q City Technology Park employs 35 highly qualified engineers for product development and support operations
Charlotte, NC (PRWEB) May 08, 2013
Diyotta, the only Frictionless Data Integration solution for ELT data integration on MPP, has recently relocated the Hyderabad, India offices to the new Q City Technology Park complex. This state-of-the-art facility provides Diyotta employees with a spacious technology-ready work environment suited for high growth.
With the current sales, development, and administrative staff of 35 now housed here, there is also capacity for over 50 employees along with the opportunity for even further expansion when required, providing plenty of room for anticipated growth.
Q City, Hyderabad is a modern international office development located in the emerging business district of Gachi Bowli. Adjacent to the prestigious Indian School of Business with the International Institute of Information Technology nearby, the property enjoys a prominent setting among the sprawling campuses of firms such as Microsoft, Computer Associates, Wipro, UBS and InfoSys. The property also benefits from close links to Hi-Tech City and Banjara Hills.
CEO Sanjay Vyas says, "Diyotta is gaining momentum and our expansion is just one such indicator of this. Our state of the art development center in newly-built Q City Technology Park employs 35 highly qualified engineers for product development and support operations."
Diyotta is the leading Data Integration solution for massively parallel processing data warehouse appliances like IBM Netezza PureData System for Analytics and Teradata along with large-scale distributed computing architectures based on Hadoop HDFS including Cloudera, HortonWorks and IBM BIgInsights.
Diyotta's unique frictionless approach to data integration sets Diyotta apart as the need for large-scale intermediary ETL platforms is replaced by rapid data movement from source to target while leveraging the processing power of MPP data warehouse appliances for in-database transformation of the data through 100% SQL pushdown. Truly friction-free ELT for MPP.
For more information about Diyotta please visit our website.